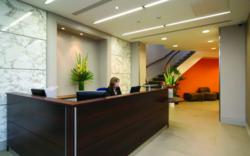 With the modern office so dependent on technology we have increased the level of customer service we provide by offering easy access to cost effective, on-site technical support
London (PRWEB UK) 10 February 2012
As part of Avanta's ongoing commitment to improving the quality, value and benefit of the assistance it provides to clients, the business centre operator has launched an in-house IT support service.
The new service provides clients with easy access to IT technicians who can help either in-person, or remotely, with everything from setting up a firewall to basic email troubleshooting. It is available on a simple pay-as-you go basis with prices starting from just £25 for a 30 minute session, with no request too big or too small. Avanta clients can also benefit from a free 30 minute IT consultation service.
"With the modern office so dependent on technology we have increased the level of customer service we provide by offering easy access to cost effective, on-site technical support," comments David Kinnaird, Avanta's group operations director.
"Our IT team are hugely experienced and can help with everything from general day-to-day problems as well as installation, set-up, configuration, repairs, upgrades, security and remote-worker access set-up. This popular new service shows our commitment to clients, taking our service beyond four walls and providing a serviced office space that truly meets their business needs."
Avanta's clients are already taking advantage of the new service. A spokesperson for Square Mile Offices, based at Avanta's Holborn business centre comments, "We were very pleased with the service we received from Avanta IT. The support engineer dealt with the issues we were having quickly and efficiently and also took the time to help us understand what the problem was. We would definitely recommend Avanta IT and use them again should we encounter any further problems."
Note to editors:
Avanta Managed Offices Limited was formed in 2004. The company offers highly flexible, unbranded office space and meeting rooms, with advanced and competitively price technology, tailor made to meet the requirements of the occupier. In the UK it currently manages more than 650,000 sq ft of office space in prime locations in London, the Thames Valley and Edinburgh. It also operates one business centre in New Delhi, India and in 2009 formed a partnership with Regent Business Centers, which manage 13 locations throughout the US.
For further information about Avanta
Colin Peck, Gravitas Business Communications
07802 606 433
colinpeck(at)aol(dot)com
Anna Norman-Butler, Avanta Managed Offices Ltd
0203 008 6000
http://www.avanta.co.uk
Join us at:
twitter.com/avantaoffices
facebook.com/avantaoffices
youtube.com/user/avantagroup
linkedin.com/groups?about=&gid=2207389
###