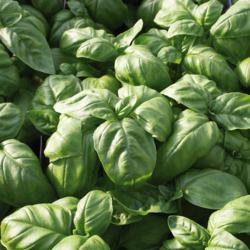 Forget a diamond ring. In Romania, a man gives a woman a basil leaf as a sign of proposal. Once she agrees to take the basil leaf, it signifies their engagement to be wed.
Charles City, VA (PRWEB) February 13, 2012
Rosemary, lavender and basil are the best herbs for Valentine's Day recipes, according to Briscoe White, owner and herb expert from The Growers Exchange, as each has a special significance for lovers.
Rosemary for Remembrance
According to Roman mythology, this culinary herb was draped around Aphrodite, the goddess of love's, shoulders, when she was born.
In the Middle Ages, rosemary became a key part of the wedding ceremony and was worn by the bride and groom to symbolize love and loyalty to each other. The newlyweds would then plant branches of the fresh rosemary that they wore during the ceremony and if the herb took root, it was thought to be a strong sign for a good marriage and healthy family life.
Many believed rosemary was a love charm and used it to foretell future lovers. To decide one's true love, girls would plant multiple sprigs and name them for their lovers. The sprig that matured the quickest meant that the girl would marry the plant's namesake.
To this day, people still use potted rosemary as a sign of love or remembrance, as its attractive aroma and hardy growth are constant reminders of the person who gives this wonderful herb.
Lavender For Lovers
Lavender is said to be an aphrodisiac, and its intoxicating scent supposedly attracts the attention of a lover when worn.
Placing fresh lavender under your pillow conjures sweet dreams of your love, while placing it under your mattress is thought to bring passion to newlyweds.
We believe that part of the allure of this lovely medicinal herb is its fantastic healing abilities and soothing scent, much like the effects of true love. Whether you wear it or keep it as a potted herb in your home, lavender will evoke a peaceful, happy energy in your garden- or your love life!
Basil For Your Beloved
Basil traditionally has been a symbol of fertility, love and marriage in many parts of the world. In Italy, basil was once called "Kiss Me Nicholas" because it was worn by maidens to let suitors know they were available. Pots of basil were also placed outside of homes as a sign that young men were allowed to stop in and court the eligible lady who lived there.
White says, "forget a diamond ring. In Romania, a man gives a woman a basil leaf as a sign of proposal. Once she agrees to take the basil leaf, it signifies their engagement to be wed."
Basil is still a sign of commitment and fertility, even in today's modern times, which proves that this wonderful culinary herb is good for more than just pizza.
"This Valentine's Day, forget red roses or chocolates and give your sweetheart what they truly want, a living symbol of your love" White says. "Giving a living herb plant to someone you love is a meaningful, sustainable gift, no matter what variety you favor. Herbs are ideal choices for their low maintenance, beauty and versatility as both a functional flavor in the kitchen or aromatic scent to enjoy."
Visit The Growers Exchange for more information on culinary herbs, medicinal herbs and aromatic herbs. And visit Briscoe's blog, Seeds for Thought, for expert advice on growing herbs indoors, growing herbs in the landscape or growing herbs in your garden.
###