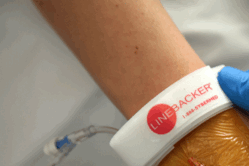 Columbus, OH (PRWEB) February 10, 2012
Linebacker, Inc. announces that it has successfully leveraged the First Customer Initiative to introduce and sell its premier product, Linebacker®, to the OhioHealth system.
Linebacker was developed by Dr. David Sybert, Chairman of the Department of Anesthesia at OhioHealth's Riverside Methodist Hospital in Columbus, Ohio. The patented device uses a secure hook and loop strap that replaces tape to secure IVs. In 2011, the company incorporated to expand its business offerings and introduced Linebacker PEDS® and Linebacker NEONATAL® product extensions for infants and children.
"OhioHealth is rated one of the top healthcare systems in the country," said Jack Kromar, CEO of Linebacker, Inc. "We are proud as a small startup in Columbus to be able to say our product is on protocol in its hospitals."
First Customer is a collaborative effort of TechColumbus and Columbus2020. The program connects IT and biomedical startups in the Columbus region to established companies interested in being first significant customers. First Customer is the only formal program of its kind in the country.
"The First Customer program has been a terrific opportunity for Linebacker," said Kromar. "Access is a critical step in the sales process, especially when small organizations are trying to manage through significant resource constraints."
To better support the First Customer initiatives, a "fast track" clinical value analysis process was developed by OhioHealth to expedite the clinical and cost evaluations.
"Startup innovators such as Linebacker have found this process to be invaluable in better understanding how to introduce and market their product," said Bob Boswell, System Vice President of Supply Chain at OhioHealth. "Through the engagement of front-line caregivers and supply chain analysts, Linebacker was provided guidance relative to the protocols and price points required for a successful product launch."
More than 20 companies have successfully engaged with the First Customer program, and Linebacker is one of the first biomedical companies to secure a critical "first customer" through the process. The program, launched in 2011, partners participating central Ohio companies, including OhioHealth, Nationwide Children's Hospital, OSU Medical Center, and Mt. Carmel, with startup companies looking to not only get their foot in the door, but get "fast tracked," allowing them to quickly present new products to critical decision makers.
Linebacker, Inc. plans to use this important first client to help build credibility for the product and expand to other healthcare systems during a critical juncture in its business. Throughout the process, Linebacker, Inc. worked closely with both TechColumbus and the OhioHealth Research and Innovation Institute—and each provided valuable feedback that helped the young company.
"Through our participation in the program, we have learned firsthand about challenges the clinicians face today with the current secondary securement methods, and how Linebacker can improve patient satisfaction while helping to reduce costs within the system," said Kromar. "The feedback we received gave us a deeper understanding about how facilities look at the implementation of new technology, specifically balancing quality of care and costs while ultimately striving to improve the patient experience."
Over the past month, the Linebacker team has been working with clinicians throughout the OhioHealth system to introduce the device, which is now being utilized in hospitals within the OhioHealth system, including Riverside Methodist Hospital, Grant Medical Center, Doctors Hospital, Dublin Methodist Hospital, and Grady Memorial Hospital.
About Linebacker, Inc.
Linebacker, Inc. specializes in developing and bringing to market medical device innovations that improve the lives of patients and the healthcare practitioners who serve them. The company, initially founded as SyberMed Enterprises, LLC, received early funding from the Ohio Third Frontier in the form of a TechColumbus TechGenesis grant and operates out of the TechColumbus incubator in Columbus, Ohio.
###