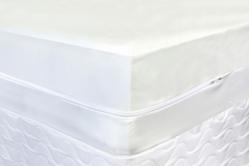 Atlanta, GA (PRWEB) February 28, 2012
The time has come once again for Spring Breakers to pack their bags and head to their vacation destinations. What will they bring with them? Spills, bodily fluids, cigarette burns, or even the possibility of bed bugs. Rental property owners can protect bedding investments with bed bug proof mattress encasements from Mattress Safe®.
Rental properties are vulnerable to the actions of the renters. The most used and easiest piece of furniture to protect is the mattress. A quality mattress encasement will protect any mattress against damage caused by accidents or misuse. Mattress Safe Superior and Ultimate mattress encasements are fire retardant and waterproof providing mattress protection from spills, burns, and bodily fluids.
Well known as hitch hikers, bed bugs can make a surprise appearance at any vacation rental property. With spring break travel, Bed bugs continue to remain fresh on the minds of property managers and travelers, making this the perfect time to prevent and protect units against these unwelcome guests. Use of a bed bug certified mattress encasement will eliminate the primary hiding spot for a bed bug infestation.
Mattress Safe mattress encasements are bed bug certified and tested by board certified entomologist, and are guaranteed to be bite proof and impenetrable not allowing bed bugs to enter the encasement.
According to the Bugs Without Borders Survey conducted by the University of Kentucky/NPMA, 95% of U.S. pest management companies have come into contact with a bed bug infestation in the last year. This compares to only 25% prior to the year 2000.
To provide the ultimate protection from bed bugs and damage, Mattress Safe offers the Sofcover Duo System. Combining a waterproof overlay with a bed bug proof encasement, the Duo System provides a washable top cover that can be removed and laundered without the need of removing the mattress encasement.
To learn more about bed bug behavior and hiding spots, visit BedBugGeneral.com, an informational resource on bed bugs. BedBugGeneral.com offers a list of tips on how to inspect for bed bugs and detailed information on how to rid homes of these pests .
For more information about Mattress Safe's® mattress and furniture encasements , please visit http://www.mattresssafe.com or call 1.888.405.5335.
###