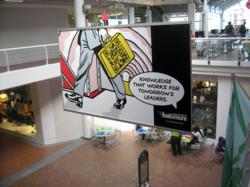 Baltimore, MD (PRWEB) February 09, 2012
The University of Baltimore, one of Maryland's fastest growing institutions, has continued its partnership with idfive, earning yet another award for a bold, forward-thinking marketing campaign. This time it is the Council for the Advancement and Support of Education's District II Gold Award for Integrated Advertising.
While incorporating elements such as QR codes have been the subject of recent skepticism, the success of this campaign lends credence to proponents who say it's not just the technology, it's all about how you use it.
Gigi Boam, Director, Office of University Relations at the University comments, "We weren't looking for attention-getting gimmicks. Our aim with this campaign has been to express who we are and engage students who will benefit from the unique learning environment and programs we have to offer."
Andres Zapata, SVP, Strategy at idfive adds, "The use of QR codes allows us to track the effectiveness of initiatives traditionally reserved for generating awareness. But the truth is that this approach only works if it is appropriately worked into the design and the larger branding of the institution. Most importantly, there must be an appropriate 'pay-off' on the other side of the QR code. Integration isn't just a technical thing, it has to be meaningful."
About the University of Baltimore: The University of Baltimore is a member of the University System of Maryland and comprises the School of Law, the Yale Gordon College of Arts and Sciences, the College of Public Affairs and the Merrick School of Business.
About idfive: idfive is an integrated, interactive advertising, web design, brand consulting and digital media agency specializing in higher education, not-for-profit, business to business, and healthcare organizations.
###