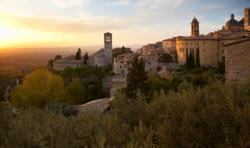 Slowing Down to See the World" is Butterfield & Robinson's motto and Tuscany is the perfect place to experience La Dolce Vita! Courtney Mundi, B&R Trip Planner has made Tuscany her adopted home.
Toronto, Ontario (PRWEB) February 10, 2012
Butterfield & Robinson, a World leader in luxury travel, has introduced even more ways to explore Tuscany. Bike the rolling hills of Tuscany on their new competitively priced Tuscany Bistro Biking Trip or walk from one stunning hill-top town to another on their new Self-Guided Tuscany Walking Trip. With the introduction of state of the art e-bikes, even the hills of Tuscany are easy.
After more than 40 years in the region, Butterfield & Robinson has a wealth of local contacts who offer authentic local events like exclusive wine-tastings, private cooking classes, lunch at local farmhouses or art history tours. Butterfield & Robinson also offers an alternative to Tuscany with the new Umbria Walking Trip. Umbria is sometimes referred to as "the new Tuscany" equally replete with boutique hotels and ancient hill-top towns.
Butterfield & Robinson http://www.butterfield.com 1-800-678-1147
###