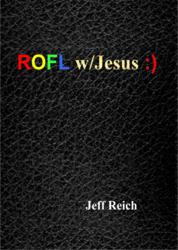 ...there are no simple predetermined answers to decisions we need to make as people of faith. Reich shows that Jesus partners with us, no matter our age.
Rev. Ron R. Lee
Orlando, FL (PRWEB) February 23, 2012
Publisher DC Press LLC asks: "What if Jesus actually 'walked your walk' and 'talked your talk? What if, in addition to your high school friends, you could include Jesus among your closest confidants?' That's what the characters in "ROFL w/Jesus :)" discover -- and they do it without the ever-popular fictional vampires found in so many current novels. Author Jeff Reich invites teen readers to jump into a world of fiction that contains characters that live and breath in the same ways real-life kids do.
FACT: Jesus doesn't have to be a Sunday school hero. That's what Parker Williams and Emily Thompson discover, when life throws them curve balls that most teenagers have to dodge – or hope to hit out of the park. Beyond promises of how Jesus "is there" when we need him in our lives, Parker and Emily find that Jesus actually walks with them and feels what they have to deal with.
"ROFL w/Jesus :)" is the first Christian teen novel in a series developed by storyteller Jeff Reich. This Florida businessman, husband and father has put his 30 years of experience, working with teens, as well as his insight, into this magnetic and captivating novel. For those who don't speak teen or aren't familiar with texting, "ROFL w/Jesus :)" translates as "Rolling on the Floor Laughing with Jesus."
That's what the teens in the book do. They laugh and they laugh with Jesus. However, as life usually makes clear, things aren't always fun and games. Parker and Emily, along with their classmates, experience first hand how surprises lurk around every corner of life. Jesus also cries when these teens cry. These characters aren't different than the majority of teens, and they face many of the same challenges that kids around the world have to deal with: gaining success in school, standing out in sports, overcoming peer pressure, and dealing with early romantic feelings. Actual life events are the basis for those described and experienced by Emily, Parker and their friends. This brings a real-life flavor to each page. Facebook creator Mark Zukerberg actually pops up and has an interesting discussion with Jesus. This novel has it all.
This is a book for casual reading. It can be used in a learning/teaching environment. Jeff Reich has written a series of stories that strongly show that he speaks the language of teens and understands what makes them tick. To strengthen the book, the author has created a "leaders guide" that is provided at no cost on the website to those who want to build discussions around the situations described.
Here's what a teen from Mandeville, LA wrote about "ROFL w/Jesus :)":
I like that the book wasn't afraid to really take a look at some of the tough issues that teens face in high school these days. It in no way felt 'religious.' It's also a very cool fact that many of these stories were in fact taken from interviews with teenagers. I think that is why this book will be so easy for these age groups to relate to. Extremely smart choice by the author to do that. Additionally, the strong Christian message is presented in a brilliant way. It's honest. It doesn't try to have all the answers. I like the fact that the characters struggle with their faith at times, which is a natural thing for people of any age, but especially teenagers dealing with peer pressure and the desire to have a 'cool' self-image. However, despite these moments of weakness in their faith walks, the author does a great job of guiding the characters back to the knowledge that God is in control, and He loves and accepts them whether they're making straight A's in school, or if they've lost their temper with friends and family. There is an awful lot of transparency to the characters in this story and the struggles they deal with. It's sad that so many of these major issues are prevalent in high-schools today, but that's what makes a book like this so needed -- to show these kids that Jesus is there to love and help them.
Jeff Reich's story telling skills are sought after by youth groups and churches. He understands teens and speaks their language. Audiences of all ages have enjoyed his wisdom and insights – a skill he developed while attending Gustavus Adolphus College in Minnesota and honed throughout the past 30 years.
ROFL w/Jesus :)
ISBN: 978-1-932021-03-5
218 pages, soft cover
$16.95
http://www.DCPressBooks.com / http://www.ROFLwJesus.com
###