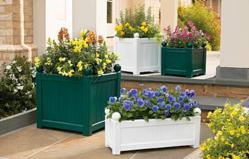 Container gardens bring tranquility and beauty to any area
(PRWEB) February 09, 2012
It is almost that time of year again when the flowers begin to bloom and days seem a bit longer and sweeter. It's finally time to break out the garden planters, mini greenhouses and complimentary trellises. Plow & Hearth knows spring is right around the corner making its primary debut on March 20th. This time of year greatly anticipated by nature lovers and gardening enthusiast is a time to get outside, explore and watch as everything bursts back to life.
It's still a bit frigid in some parts of the states, but that's alright. This is the perfect time to begin weeding and pruning in preparation for that beautiful garden most have been dreaming about for the last several months while being cooped up with cabin fever. Well, guess what - this can very easily become a reality for anyone. Even with limited space, there are endless possibilities.
Container gardening is ideal for small spaces and introduces various colors and style options to areas. These beautiful and practical planters can infuse any area with new life. Container gardens generally require frequent watering. Self watering planters include a reservoir system that ensures plants get the water they need so watering can occur less often. Garden planters are offered in frost proof as well to hold up against freezing temperatures and protect plants in colder climates so getting an early start on planting is an option.
Creating a personal garden gives a great sense of accomplishment. It's all about the beauty and the tranquility that it brings. And it's not just about bringing beauty to surroundings; it also is a reminder to stay close with the earth and be good stewards of the environment.
Window boxes, another form of container gardening, are a nice addition to any home. They add classic touches of elegance to windows, decks or railings. They also add instant style and glamour to an otherwise bland and often overlooked area. These boxes can easily become conversational pieces at spring socials and barbecues as they showcase bold and beautiful blooming annuals or perennials.
Choosing just the right mix of plants and flowers for a personal garden can bring a bit of spring to a home early in the season and be enjoyed throughout the season.
About Plow & Hearth
Plow & Hearth began as a small retail store in Madison, Virginia in 1980 and has grown to become a respected national catalog, retail and Internet company with more than 5 million customers. For over 30 years, the company has been a trusted source of unique, enduring products for the hearth, home, yard and garden, helping customers create an environment that is comfortable and welcoming, warm and personal. As part of their product development initiative, Plow & Hearth works with artisans and manufacturers around the world to develop innovative products created from uncommon materials and crafted by hand. Special consideration is given to those products made with environmentally friendly materials as well as products that will encourage customers to be more environmentally responsible, such as composting products and energy savers. Every item they sell is backed by a 100% satisfaction guarantee. The Plow & Hearth Family of Brands also includes quality toys from HearthSong® and Magic Cabin®, weather instruments from Wind & Weather®, innovative solutions from Problem Solvers® and unique home and garden décor from WinterthurStore®.
###