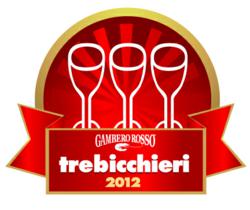 Over 20% of Vias Imports' Italian suppliers received the 2012 Tre Bicchieri title for one of their wines
New York, NY (PRWEB) February 13, 2012
Vias is proud to represent several Tre Bicchieri winners at the Gambero Rosso World Tour dates in the United States.
The release of the 2012 Gambero Rosso guide placed 13 Vias supplier wines from nine different Italian regions in the prestigious Tre Bicchieri category (see list of winners below). The Gambero Rosso panel tasted over 20,000 wines, selecting only 375 wines to receive the Tre Bicchieri title.
Vias Tre Bicchieri honorees Elvio Cogno Ravera Barolo 2007, Còlpetrone Sagrantino di Montefalco 2007, Tenuta San Leonardo San Leonardo 2006, Rocca di Frassinello Baffonero 2009 and Feudi del Pisciotto Gianfranco Ferre` Passito will be poured at the three Gambero Rosso tastings in America, giving enophiles the chance to taste these premiere, limited-production wines. Tenuta San Leonardo, a Tre Bicchieri veteran, will be presenting the 14th vintage of San Leonardo to receive the distinction. Elvio Cogno Owner and Winemaker Valter Fissore, Rocca di Frassinello and Feudi del Pisciotto Winemaker and Sales Director Alessandro Cellai and Còlpetrone Export Manager Giovanni Lai will personally be on hand to present their Tre Bicchieri wines.
"We are proud to have so many Tre Bicchieri winners in our portfolio. Such a recognition is a testament to the nearly 30 years Vias Imports and Fabrizio Pedrolli have spent putting together a premiere portfolio of Italian wines by building long-term relationships with the producers that best represent their terroir," says Vias President Luca Bigerna.
The Gambero Rosso World Tour 2012 dates in the United States are:
February 15th, 2012 - San Francisco, Fort Mason Center
February 17th, 2012 - New York, Metropolitan Pavilion
February 21st, 2012 - Chicago, Union Station
To register to attend these events, please visit Gambero Rosso.
To request interviews with attending producers or additional information, please contact Hilary Ruesch.
VIAS IMPORTS' TRE BICCHIERI 2012 WINNERS
Abruzzo
CATALDI MADONNA - 2009 Pecorino Alto Tirino IGT
Alto Adige
STRASSERHOF - 2010 Veltliner Valle Isarco DOC
Friuli
VIE DI ROMANS - 2009 Flor di Uis Bianco Friuli Isonzo DOC
Piemonte
CA' VIOLA- 2006 Sottocastello Barolo DOCG
ELVIO COGNO - 2007 Ravera Barolo DOCG
PECCHENINO - 2009 Siri d'Jermu Dolcetto Dogliani DOCG
Sicilia
FEUDI DEL PISCIOTTO - 2009 Gianfranco Ferrè Passito Sicilia IGT
Toscana
LA CERBAIOLA - 2006 Brunello di Montalcino DOCG
LA LASTRA - 2009 Vernaccia di San Gimignano Riserva DOCG
ROCCA DI FRASSINELLO - 2009 Baffonero Maremma Toscana IGT
Trentino
TENUTA SAN LEONARDO - 2006 San Leonardo Vigneti delle Dolomiti IGT
Umbria
CÒLPETRONE - 2007 Sagrantino di Montefalco DOCG
Veneto
SUAVIA - 2009 Monte Carbonare Soave Classico DOC
About Vias Imports Ltd.—http://www.viaswine.com
Established in 1983 as an import company specializing in small, high-quality wineries, Vias Imports Ltd. has grown in most recent years to have broad-based distribution operations that place it among the most renowned Italian wine importers in the US market, boasting one of the most outstanding portfolios in the industry.
Its mission is to educate wine lovers about the wide range of grape varietals from Italy, inviting palates to appreciate the diversity of Italian wine through the enticing experience of food and wine pairing, and guiding them in the understanding of a heritage which is particular to the Italian peninsula.
Today, Vias Imports distributes its wines directly in the States of New York and New Jersey, and nationally through a network of 61 distributors.
###