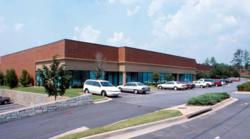 We are excited to add the Alpharetta properties to our joint venture and look to build additional equity relationships to take advantage of investment opportunities in other markets. Tom Hotovec, CFO of Meritex
Minneapolis, MN (PRWEB) February 09, 2012
Meritex Enterprises, Inc. announces the expansion of its joint venture holdings in Atlanta with the acquisition of a two-building, 92,000 square foot, office/warehouse project in Alpharetta, Georgia. Known as Rubicon in Windward, the properties are located at 1005 Alderman Drive in north metro Atlanta. The class-A, multi-tenant properties are 85% occupied by nineteen tenants.
Meritex formed the joint venture relationship with a major institutional partner in early 2011 in order to acquire a ten-building industrial portfolio in metro Atlanta. The Alpharetta acquisition increases the partnership's total holdings to more than 819,000 square feet.
"We are excited to add the Alpharetta properties to our joint venture and look to build additional equity relationships to take advantage of investment opportunities in other markets," stated Tom Hotovec, chief financial officer of Meritex. "Joint venture partnerships are an important part of our long term strategy, enabling us to leverage our capabilities throughout the organization."
"Our investment strategy focuses on acquiring properties where we can create value and produce consistent cash flows," said Dan Williams, chief investment officer of Meritex. "Our investment sourcing process, along with our local asset management teams enable us to identify a variety of targeted opportunities in the marketplace," he added.
Meritex is the managing partner and will manage the Alpharetta properties on behalf of the venture. Resource Real Estate Partners, LLC has been retained as the leasing agent for the property.
Company Information: Meritex is a private real estate investment and management company that acquires, develops, owns and operates commercial real estate, primarily institutional grade, multi-tenant industrial properties. The Company owns, leases, and manages 8.7 million square feet of commercial real estate in 7 markets in the U.S. Its portfolio consists of multi-tenant industrial, office and subsurface industrial properties. The Company's properties are located in Atlanta, Columbus, Denver, Houston, Indianapolis, Kansas City, and Minneapolis-St. Paul. Additional information can be found at the Company's website http://www.meritex.com.
###