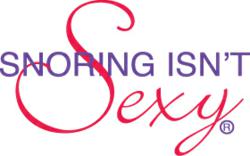 New York, NY (PRWEB) February 10, 2012
Sleep apnea, a medical condition in which the patient stops breathing multiple times throughout the night, affects more than 20,000,000 people in the United States alone. Of this number, fewer than 15% have been diagnosed and treated and of those treated many cannot tolerate their prescribed medical treatment. Snoring Isn't Sexy feels that a dedicated Facebook page is an ideal location to discuss dentistry's new role in the recognition and management of sleep-breathing disorders.
Sleep apnea has been causally related to high blood pressure, heart failure, heart attack, stroke, diabetes, mental impairment, ED as well as excessive daytime sleepiness and drowsy driving.
Medical treatment of sleep apnea usually consists of treatment with a CPAP (continuous positive air pressure) unit which provides air under pressure, through a tube and mask generally worn over the nose, to support the structures in the throat that tend to collapse during sleep leading to apnea (without breath).
Some patients cannot tolerate the CPAP unit, others simply would prefer a less cumbersome alternative to the CPAP unit. Specially-educated dentists, working with a patient's sleep physician, can treat sleep apnea (especially in mild to moderate cases) with a small, comfortable, custom-designed oral appliance that holds the lower jaw in a forward position splinting the structures in the back of the throat that tend to collapse during sleep.
"Unfortunately many patients are unaware that there is an alternative to CPAP," said Dr. Laurence Barsh, President and Founder of Snoring Isn't Sexy. "While our company does have an active web site that can be accessed by computer, tablet and smartphone, we felt that it was important to reach out to patients from Facebook as well to reach as many people as possible."
About Snoring Isn't Sexy, LLC
Snoring Isn't Sexy, LLC was founded in 2008 by Laurence I. Barsh, DMD, a dentist who has been involved with sleep medicine since 1992 and who now devotes full time to educating the public about dentistry's role and responsibility in the recognition and management of snoring and sleep apnea. Dr. Barsh and the dentists associated with Snoring Isn't Sexy, LLC feel strongly that management of sleep-breathing disorders is a shared responsibility of both the medical and dental professions.
Snoring Isn't Sexy, LLC consists of independently owned and operated affiliated offices. Visit http://www.SnoringIsntSexy.com for a directory of all participating dentists.
###