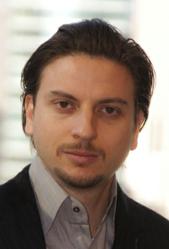 New York, NY (PRWEB) February 11, 2012
Developer Maurice Mann unveils 480 Central Park West- chic Upper West Side living in new condominium conversion for 450k.
Acclaimed 36 Gramercy Park East Developer Maurice Mann partners with Nest Seekers International to offer the first Central Park West condominiums on the market in over 5 years. Mann owned the building for 30 years and says he is ready to pass on the building to the 'next generation' at affordable prices.
Maurice Mann and Nest Seekers International achieved record breaking success with 36 Gramercy Park East, now they team up once again to present 53 new units in a 2 building conversion on the Upper West Side at 478 & 480 Central Park West. As the first condominiums on Central Park West available on the market in over 5 years, 480 CPW presents a rare opportunity to own a piece of the park at a fraction of the price. Starting at $450,000 for smaller units, 480 CPW will offer unique and modern floor plans ranging from studios to 4 bedrooms with Central Park views. Mann is able to pass on great value to buyers because he has owned the building for three decades and feels ready to pass it on to the next generation. "My friends were looking to invest in an apartment for their daughter while she attended Columbia University and they couldn't find anything at a decent price", say's developer Maurice Mann", "Students, young professionals, the next generation deserves to enjoy living on Central Park and I am able to pass my building on to them at a price they can afford because I have owned it for over 30 years."
Nest Seekers International has the exclusive listing and CEO Eddie Shapiro says that despite the affordable prices, the units were crafted with the same high-end amenities and attention to detail that Maurice Mann is famous for. The condominiums will include top of the line appliances from Bosch and Miele, bamboo flooring, imported marble bathrooms with Toto Eco-Smart toilets, 2 burner systems, central air, storage facilities and very low maintenance fees. "For young professionals who have always dreamed of living on Central Park West, 480 CPW is your opportunity to make that dream a reality" says Shapiro, "The amenities are phenomenal, Maurice Mann has very high-standards and is known for delivering nothing but the best in luxury, this is truly a once in a lifetime opportunity."
Central Park West living has never been so affordable. As the rare exception to the tough co-cp boards that rule Central Park, 480 CPW are the first condominiums available on Central Park West since the infamous 15 CPW. Models will be shown by Nest Seekers International beginning in mid January and pre-registration is available at http://www.480cpw.com.
About Mann Realty
Mann Realty Associates is a leading full service, integrated residential real estate investment and management company based in Manhattan.
Founded in 1980 as a property management firm by entrepreneurial real estate owner and manager Maurice Mann, Mann Realty Associates has grown to develop and restore some of the most beautiful buildings in New York City. Mann's portfolio includes the acclaimed and flawless restoration of 36 Gramercy Park East and he won the Real Estate Board of New York's "Most Ingenious Deal of the Year" award for his role in the purchase of a mixed-use, 42-story high rise at 38th Street and Sixth Avenue.
Mann Realty Associates Owns and manages dozens of properties, apartment buildings and retail block-fronts, which have a combined market value of nearly half-a-billon dollars.
About Nest Seekers International
Nest Seekers International is a global full service premiere real estate firm specializing in the sale and rental of condominiums, cooperative apartments and townhouses, as well as long and short-term / furnished rentals and corporate relocation. The Nest Seekers International portfolio of properties includes listings all over the World in the Hamptons, South Florida, Europe, Asia and the Middle East. The Nest Seekers International commercial division services tenants and landlords for office, retail leasing and investment properties including income-producing properties, development sites and bulk purchase opportunities.
###