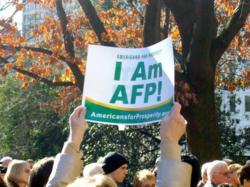 Washington, DC (PRWEB) February 09, 2012
On March 27th Americans for Prosperity will host a major rally on Capital Hill featuring a large crowd of free-market activists and high-profile speakers, during the Supreme Court hearing on President Obama's health care bill.
Americans for Prosperity has educated the public about the effects of government interference in private health care for the past several years. Now the Supreme Court is set to hear arguments and make a ruling on the constitutionality of the 'individual mandate' - which requires every American citizen to purchase a health care plan.
Americans for Prosperity President Tim Phillips said, "A year ago, I stood with AFP and Tea Party activists in Richmond as the lower court considered the case. In Atlanta, our activists held Hands Off My Health Care signs outside the federal court house. Now, we've got to finish the job before the Supreme Court."
Rally Details:
Hands Off My Health Care Rally
The United States Supreme Court, Washington, D.C.
March 27th at 1:00PM
Over the past few years, Americans for Prosperity has played a major role in educating the public on the impact of the President's health care bill. AFP's Hands Off My Health Care Tour criss-crossed the nation in 2009 hosting over 300 events and rallies. Then, in late 2009, over 5,000 activists gathered for AFP's Code Red Rally in Washington.
Further details of the rally will be released in the near future.
# # #