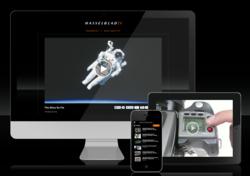 Manchester, UK (PRWEB UK) 10 February 2012
Digital innovation studio Skylab announces the launch of Hasselblad tv (HTV) - a multilingual online video platform inspiring and educating photographers worldwide.
Hasselblad, a leading manufacturer of the world's finest professional cameras, commissioned HTV to showcase Hasselblad cameras and to tell 'the story behind the lens' of renowned professional photographers around the world. A one-stop resource for aspiring and professional photographers, HTV was built on Skylab's MediaTank online broadcasting platform.
Chris Russell-Fish, Hasselblad's Global Sales and Marketing Director, described the project as "extremely exciting for Hasselblad, our customers and trade partners. Working with award-winning, Manchester-based digital specialists Skylab has allowed us to produce a comprehensive, state-of-the-art, standalone education and research tool for Hasselblad enthusiasts across the globe."
HTV houses inspiring material from the world's most esteemed photographers. Visitors can access behind the scenes footage of photo shoots with A-list celebrities, including Martin Scorsese, Christopher Walken, James Blunt and Tom Jones, plus material from photo shoots for prestigious organisations such as Bugatti, Ferrari and Chanel.
The site offers a number of educational resources, including video tutorials for using Hasselblad cameras, lenses and Hasselblad's Phocus software. The site also includes content from Hasselblad's VICTOR magazine and content on a variety of topics and genres from Hasselblad Masters.
The multilingual tool boasts channels and content in several languages, including French, German, Italian, Spanish and Chinese. Importantly, Hasselblad users are invited to submit their own videos to build up this global photographic video network.
Nigel Collier, Managing Director, Skylab comments, "Hasselblad are an amazing client to work with and their heritage defines the history of photography itself. We've been working with Hasselblad for nearly two years to bring this project to fruition. They understand the importance online video now has for any brand. Skylab's expertise in online video platforms and the freedom to make MediaTank multi-platform and multi-lingual, were critical factors in the success of the launch.
"As well as designing and building the platform, Skylab, together with the Hasselblad team, also created an enormous 240 films from scratch to populate HTV", continues Collier. "The impact in the first couple of days since launch has been dramatic. We've attracted high traffic levels from 4,000 cities in over 140 countries around the world, with very deep levels of engagement. Hasselblad TV has been designed and built for Mac, PC, iPhone and iPad and is an awesome multi-lingual showcase for Skylab and MediaTank."
Collier adds: "MediaTank is an online video platform for business that allows any organisation, brand or content owner the freedom to broadcast in HD to a global audience, from their existing website. In simple terms, it's like having your own branded iPlayer, allowing the creation of bespoke channels and the addition of an unlimited number of videos to broadcast your business to the world in any language and on any platform.
"With HTV, we've evolved the MediaTank platform to enable even greater levels of performance and functionality, allowing for very high levels of traffic and very smooth delivery."
Hasselblad tv continues Skylab's theme of digital innovation, which includes a recent Big Chip Award for the development of the British Gas Swimfit project for British Swimming.
Editor's Notes
Video clip:
To link to a video clip from HTV please use the following link
About Skylab:
Skylab is a studio that specialises in digital strategy and production. We create websites, apps, social media and content such as film.
We help clients create a digital strategy that acts as a road map to success across all digital platforms. We also create digital intellectual property for clients that they can own and build on, well into the future.
We are unashamedly commercial in our approach and are often asked to employ disruptive tactics to help move, shape and fundamentally disrupt markets on behalf of our clients. Many of our solutions are innovative firsts and often set the standard for that industry.
From the BBC to the Brit Awards and from Heathrow's T5 to Hollywood, our work has played on some of the biggest canvases in the world.
Our clients come in all shapes and sizes from small businesses to big names such as the Home Office, William Hill, Sony, Lloyds TSB, British Swimming, ITV, Universal, the BBC and Manchester United.
Skylab has an award winning heritage including a BAFTA Award plus two further BAFTA nominations. Our previous experience has also gained us awards from Cream, NME, British Video Association, Roses and Big Chip.
About Hasselblad Group:
Founded in 1941 in Gothenburg, Sweden, Hasselblad has been the leading manufacturer and partner for photographers working in the medium format environment for over half a century, consistently providing the highest level of quality and innovation. The extraordinary quality of the company's products became famous in 1962 when Hasselblad cameras were selected for NASA space missions, which resulted only a few years later in the first world-renowned images taken on the moon. Positive associations with Hasselblad's past serve as the foundation for the company's modern and energized brand.
In 2002, the Hasselblad H Camera System was introduced. With its professional lens family and unique advancements, including True Focus and instant lens correction within the Phocus software, it is the most comprehensive digital camera system of its kind available today.
###