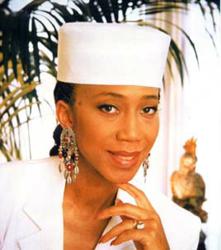 From birth, you're significant. We have merit and value from that moment. --Ambassador Shabazz
Tempe, AZ (PRWEB) February 11, 2012
Young people who want to understand their purpose in life need to understand themselves first, Ambassador Shabazz, eldest daughter of Malcolm X, told a crowd at South Mountain Community College, one of the 10 Maricopa Community Colleges. "Sometimes you have to be quiet enough to understand what your mission is," she told the audience, which included students and employees of the Maricopa Community Colleges and members of the community.
"From birth, you're significant," she said, amplifying on a statement of Malcolm X about human beings. "We have merit and value from that moment."
Ambassador Shabazz brought her combination of wisdom and stories of growing up with one of the most prominent advocates for the rights of African Americans. She described life in a family that was both Muslim and ecumenical, adding that she was "no less Muslim" for attending parochial school. She recalled that her mother, Dr. Betty Shabazz, "went to sunrise service every Easter…because she could feel the spirit."
Contrary to the belief of some, the Shabazz family and the family of Martin Luther King were friendly. When Dr. King was killed, she recalled. "my mother was devastated." She said she "watched my mother go numb," when she heard the news of the assassination.
Ambassador Shabazz said her father, who in public was a harsh critic of unfair treatment of African Americans, was at home "very blushy and shy, a very easy, approachable guy."
She shared her ideas on a broad range of topics during the February 6 presentation, which was part of the Maricopa Community Colleges' celebration of Black History Month. Among her thoughts:
On politicians: "Listen to the authenticity and the focus of the persons running," she said, cautioning the audience to choose wise leaders. She said that in choosing someone to vote for she wanted to know that "When I close my eyes and you're at the wheel of the car, you're going to pull over if you're sleepy."
On Arizona: Ambassador Shabazz said that during her trip to visit the community colleges, she had a "really at home feeling" coming to Arizona. "I might come back and spend more time," she proclaimed. She said she last visited the state years ago under less friendly circumstances, when Arizona was embroiled in controversy over whether to declare Martin Luther King, Jr. Day a holiday.
On the motives people should have for their actions: People should ask themselves some important questions, she advised, among them "Who am I? How will I serve others?"
On an Arizona proposal to allow guns on college campuses: "I understand you have a gun law, or bill. If only there were a love law. If only there were an intellect law," she said, adding that such legislation may seem like a good idea until its effects are felt, "until it hits home."
On religious differences: "Make sure you are exposed to the range of how God speaks," she advised, adding, "There is an issue about which denomination, which religion…it's really all the same," she said. "God provides us 100 ways to find Him."
On her work: Ambassador Shabazz is a producer, writer and lecturer. She said one of her goals is "to give students a ticket to experiences they wouldn't have otherwise." She was named an Ambassador-At-Large by the Prime Minister of Belize in 2002.
The Maricopa County Community College District is one of the largest community college districts in the nation. It includes 10 colleges – Chandler-Gilbert Community College, Estrella Mountain Community College, GateWay Community College, Glendale Community College, Mesa Community College, Paradise Valley Community College, Phoenix College, Rio Salado College, Scottsdale Community College and South Mountain Community College. The District also includes the Maricopa Skill Center, Southwest Skill Center, several satellite campuses, business and industry; technical and customized training institutes.
###