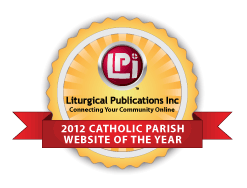 Milwaukee, WI (PRWEB) February 10, 2012
Volunteers and staffs at parishes around the US spend countless hours making sure that the website at their parish's URL is the best representation of their community. Liturgical Publications Inc (LPi) has partnered with CatholicTechTalk.com to recognize these webmasters, professional and amateur, who make the sites the best they can be.
This year, LPi celebrates 40 years of helping churches with their communications needs. While much of that history is rooted in print, electronic media is an important part of those connections—to LPi and the churches that partner with them.
"Every day we work with parishioners and staff members who dedicate themselves to doing the best for their parish. We realized that even though there are many 'Website of the Year' awards out there, none of them was for this special corner of the Internet," said Joe Luedtke, Vice President of Interactive Media at LPi.
Luedtke, a regular contributor and editor at CatholicTechTalk.com, continued, "Who better to recognize parish sites than CatholicTechTalk.com, where Catholic 'techies' learn about all things technology for their church, and LPi, who helps churches make all of their communications better?"
An esteemed panel of judges has been assembled to rate the websites on their quality of content, design and visual appearance, ease of navigation, use of technology, and utilization of search optimization. Submissions will be accepted until April 30, 2012, and the winners will be announced on June 4.
To submit a website or learn more, please visit http://www.CatholicTechTalk.com/Contests.
Since its founding in 1972, Liturgical Publications Inc has offered churches across the United States custom communication solutions backed by industry-leading service. Our years of experience, stability, and quality help us work successfully for over 3,500 congregations and organizations as well as over 100,000 businesses around the country. Headquartered in Milwaukee, WI, LPi has regional offices around the country to provide local support for your community. More information is available at http://www.4LPi.com.
###