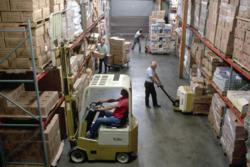 Much of our growth came from... strengthening our core and enhancing the value we bring to customers.
Stillwater, MN (PRWEB) February 15, 2012
Supply Chain Services, a leading supplier of barcoding and data capture solutions for the distribution and warehousing markets today reported its 2011 sales results. The 43% top line growth to $15.5 million and gross margin growth of 48% reflects the combination of the implementation of strategic investments to expand and focus the company's internal resources on its core business, as well as improved market conditions for rugged mobile computer technologies.
In 2011 Supply Chain Services made a number of key investments to generate sustained growth. The company invested in extensive sales methodology training to become a better resource for our customers and develop more trusted relationships. Doubling the company's technical staff has also help build a reputation of experience and excellence in customer service and support for data collection equipment and mobile computers. During the year relationships were also strengthened with OEM and distribution partners. Implementation of marketing programs in the second half also helped expand a lead generation capability and generate market awareness of the Supply Chain Services brand.
"This has been a fast paced year of ongoing investments in customer-facing resources," said Chip Emery, Owner and CEO. "Much of our growth came from implementing strategic initiatives we developed in late 2010. These were targeted at strengthening our core and enhancing the value we bring to customers. This positioned us to take advantage of opportunities arising from a recovering economy and increased industry adoption of mobile technologies."
Supply Chain Services is a full service provider of barcode systems and data collection solutions. The company specializes in designing and implementing rugged mobile computer, barcode scanner, barcode printer, and wireless network infrastructures to support supply chain processes within warehousing, manufacturing, and distribution organizations. Supply Chain Services is located in Stillwater, Minnesota and has over 2000 customers across North America. For more information, visit http://www.supplychainservices.com.
###