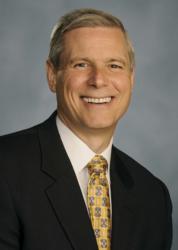 Amica's conservative approach to financial management positions us well to respond during challenging times like these.
Lincoln, RI (PRWEB) February 09, 2012
Despite historic levels of weather-related catastrophe claims, Amica Insurance remained financially solid last year with $62 million in net income, an increase of $40 million in assets and a surplus of about $2.26 billion at year-end 2011.
Robert A. DiMuccio, president, chairman and CEO of Amica Mutual Insurance Co., shared those highlights during the company's annual meeting at its corporate headquarters earlier today.
"Amica's conservative approach to financial management positions us well to respond during challenging times like these," DiMuccio said. "Our surplus offers stability and remains in excellent shape. Our investment portfolio is balanced and strong."
In fact, DiMuccio noted that A.M. Best, the nation's authority on insurance company financial stability, again has given the financial strength rating of A++ (Superior) to the Amica Mutual Group and A+ (Superior) for Amica Life. "These ratings have long validated Amica's solid financial stability, which translates into security for our customers," he said.
Amica also again earned a spot as one of Ward's 50 Top Performers in 2011, based on an analysis of more than 3,000 property-casualty insurance companies analyzed by the Ward Group, DiMuccio said. It was the second year in a row that Amica Mutual was named to this list. Amica Life was also recognized as one of Ward's 50 Top Performers in the life-health category in 2011.
Overall, DiMuccio said, Amica remained financially strong despite one of the most catastrophic years ever to face the property and casualty insurance industry. "We saw an unrelenting barrage of weather-related catastrophes all over the country," he said, noting that the year was marked by blizzards, ice storms, tornadoes, wildfires and Hurricane Irene.
Amica's total cost for catastrophe claims in 2011 was just shy of $200 million – the highest ever in the company's history and roughly three times higher than the total catastrophe claims experienced in either 2010 or 2009, DiMuccio said. DiMuccio also reported that net income was $62 million for the year, down from $101.4 million in 2010, in large part because of the catastrophic losses combined with low interest rates that affected investment income. But assets grew by almost $40 million, driven by increases in bond and equity investments and deferred assets. The surplus dipped only slightly, from $2.34 billion in 2010 to $2.26 billion last year. Overall, he said, the surplus continues to be consistent year to year. Also, capital and surplus for Amica Life increased by 6 percent, to $197 million, up from $185.7 million in 2010.
DiMuccio said premium growth and sound investments, combined with holding the line on expenses, "helped us offset the adverse catastrophe losses we experienced and contributed to a strong bottom line." Amica's combined ratio at year-end was 112.4 percent, primarily because of the claims volume.
But despite the onslaught of claims, Amica employees provided exceptional service, month after month, DiMuccio said. "When our customers needed us most, their calls were answered quickly, and their claims were resolved promptly and fairly by courteous, caring and professional staff," he said.
Amica will continue to put its customers first in 2012, DiMuccio said, noting that the company plans major enhancements to Amica.com and its mobile website to be available wherever and whenever customers need assistance.
In other business, DiMuccio also noted two changes to Amica's board of directors. Andy Erickson of East Greenwich, RI, who's been with the company for more than 50 years, retired from the board. Taking his place will be Debra A. Canales, executive vice president and chief administrative officer for Trinity Health, headquartered in Novi, MI.
About Amica Mutual Insurance
Amica Mutual Insurance Company, the nation's oldest mutual insurer of automobiles, was founded in 1907. The company, with corporate headquarters in Lincoln, RI, is a national writer of automobile, homeowners, marine and personal umbrella liability insurance. Life coverage is available through Amica Life Insurance Company, a wholly owned subsidiary. Amica employs more than 3,200 people in 40 offices across the country.
CONTACT: Vince Burks, Corporate Communications, 50 Amica Way, Lincoln, RI 02865-1155, 800-652-6422, ext. 24563
Website: Amica.com
Twitter: Amica
Facebook: Amica Mutual Insurance Co.
# # #