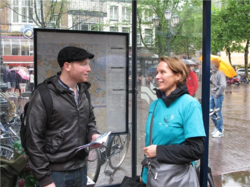 Amsterdam, NL (PRWEB) February 09, 2012
Volunteers from the Church of Scientology Amsterdam took to the streets last week with factual information on the dangers of drugs. They distributed Truth About Drugs booklets in Overtoomseveld, a suburb west of Amsterdam.
Their concern: In Amsterdam and surrounding areas, drug use is higher than the national average, and youth in the city need to be informed so they can make self-determined decisions to live drug-free lives.
"The younger youth are when they begin to use drugs, the more likely they are to become addicted," says Merel Remmerswaal, spokesperson for the volunteers.
In addition to distributing booklets throughout the city, Scientologists participate in annual Anti-Drug Marathons each summer, running throughout the Netherlands to promote drug-free living.
For more information on the drug education and prevention initiative of the Church of Scientology, visit the Scientology website at http://www.Scientology.org.
The Church of Scientology sponsors the world's largest nongovernmental drug education and prevention campaign.
###