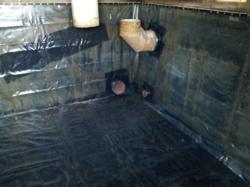 No other type of lining system could have possibly matched the installation time, service life, and low cost of this flexible PVC liner
Claremore, OK (PRWEB) February 13, 2012
In 1996, a Wisconsin based engine manufacturer chose a flexible PVC liner from Witt Lining Systems to line the reservoir part of their cooling tower. After 15 years of continuous service and regular abuse, the 1/8" thick PVC liner was reaching the end of its useful service life, creating the need for regular repair.
The company has plans in the next 48 - 60 months to design and erect a new cooling tower and reservoir complex. Due to production requirements and climate conditions, they needed a way to coat the concrete in the old reservoir that was fast as well as economical to keep the tower in operation until its replacement can be completed.
The aging concrete structure was built during WWII. Years of exposure to water on the inside and the Wisconsin climate on the outside had caused severe spalling, cracking to the concrete structure, and corrosion on the exposed internal steel piping. Before a new system could be installed, the old liner had to be removed and some concrete repairs made. A geotextile padding placed on the floor and part of the walls was added to protect the new liner from large cracks and irregularities. The work was postponed until Oct. due to the demands of production – further complicating the project with cold and unpredictable weather. The company chose a 60 mil gauge Spectra Blue liner for the 17' x 19' x 9' deep reservoir, which was able to be lined in just 2½ days! Witt Lining Systems ability to prefabricate the liner in one piece – including support columns in one wall - was key to meeting the very tight schedule. "Boots" for outlets were supplied by Witt and field welded into the liner on site by their factory installer, Stein Industries, to assure perfect fit since there were no accurate dimensions of the pipe locations. The structure was then turned over to the client ahead of schedule. "No other type of lining system could have possibly matched the installation time, service life, and low cost of this flexible PVC liner" said installer Melvin Stein.
Witt Lining Systems is located in Claremore, OK. The company manufactures flexible PVC liners used for corrosion resistance in process tanks, storage tanks, vats, sumps, pits, and containment areas. PVC brands include Spectra Blue, Exceline and Koroseal PVC along with NSF-61 PVC and Teflon liners. For more information contact 1-800-323-3335 or visit http://wittliners.com/
Stein Industries is a custom designer, fabricator, and installer of plastic tanks, custom equipment, and Witt Linings' factory installer in industrial and commercial applications. The company is located in Bryant, IN. For more information contact 1-260-997-6700 or visit http://www.steinindustries.com.
###