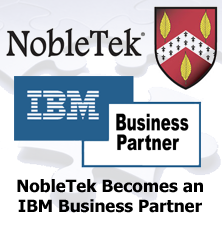 (PRWEB) February 10, 2012
On February 7, 2012 NobleTek, industry-known provider of Product Lifecycle Management (PLM) and engineering services announced that it has entered into a reseller agreement with IBM to begin selling its Tivoli Enterprise Asset Management software, Maximo. This relationship will be the second time the two have entered into a partnership to sell Enterprise Applications to their customers.
NobleTek has chosen Avnet Technology Solutions as their value-add distributor for the IBM software offerings because Avnet was clearly able to demonstrate its ability to help a new IBM software partner launch and maintain a successful IBM software reselling practice in several high-growth vertical markets, like energy and utilities. Avnet Technology Solutions, an operating group of Avnet, Inc., is a global IT solutions distribution leader that collaborates with customers and suppliers to create and deliver services, software and hardware solutions that address the business needs of end-user customers locally and around the world.
Dr. Vijay Vasandani, Vice President and CTO at NobleTek, is very pleased with the development, stating "NobleTek's core business is to help its customer become more productive and efficient in delivering and managing the life cycle of their products. This partnership with IBM & Avnet Technology Solutions to extend our service offerings to cover the Tivoli Enterprise Asset Management suite of products is in line with our aggressive growth strategy. It will help consolidate our partnership with many existing customers in the aerospace and entertainment industries while opening doors for new partnerships with others in the Energy, Oil and Gas, & Transportation sectors."
"We hope to make this relationship with IBM & Avnet just as successful and mutually beneficial as the one NobleTek has had in the past with the IBM PLM team." added Dr. Vasandani.
"It is very beneficial to the market for Avnet, the solutions distribution leader, and NobleTek, a leader in asset management, to join forces to provide complete Tivoli Enterprise Asset Management/Maximo solutions," said Dan Bridenbaugh, Director of Software, IBM Solutions Group, Avnet Technology Solutions, Americas. "Through Avnet's SolutionsPath® methodology and Destination: Industry program, Avnet is uniquely positioned to help NobleTek expand its current relationships with end-user customers and accelerate growth with new customers in key vertical markets by including IBM software solutions."
NobleTek's Director of Engineering Business Services, Brett Ade, has been managing the EAM services team at NobleTek for the past year, and is looking forward to adding product sales as a value-added part of the EAM solution for its clients. Says Ade, "With the addition of Maximo, we are now able to help our customers solve problems beyond design and engineering - in fact, all the way through to maintenance and support. Maximo directly touches many aspects of the business that PLM and Engineering Services only peripherally address, such as Work Management, Inventory Management and Procurement. We look forward to leveraging our current skillset in addition to scaling up our Maximo team so that we can better partner with our customers to solve real world enterprise problems."
###