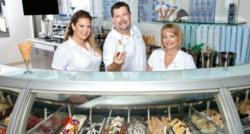 We like to think of our Gelato Shop as a fine jewelry store, where the appealing gelato and sorbet displays are the jewels.
Gilbert, AZ (PRWEB) February 09, 2012
Located in the San Tan Village Shopping Mall in Gilbert, Arizona, Frost has been pleasing throngs of enthusiastic customers since first opening their doors in July of 2011. New customers invariably become repeat customers, as they appreciate the delectable flavors and the fresh ingredients brought in from Italy to create each of their hand-made delicacies.
According to owner Doug Woelfle, the Santan Village shop has sold over 15,000 servings of their gelato each month since they opened their doors in July of 2011. Woelfle said, "We like to think of our Gelato Shop as a fine jewelry store, where the appealing gelato and sorbet displays are the jewels." He continues, "We do all we can to make sure that our frozen treats visually impact our customers as they walk into the shop, and then we treat each patron to our gracious hospitality by serving samples, explaining and suggesting our flavors…and doing it all with a smile." Woelfle added that they offer more than seventy varieties of their gelato and sorbet, and that amongst those, the top-selling flavors are Sea Salt Carmel, Dark Chocolate, and Roasted Almond.
For those that are lactose intolerant, or who are avoiding dairy for any reason, Frost serves up a variety of sorbets, including Raspberry, Limonchello, and Blackberry Cabernet. It is this type of sorbet that will be the centerpiece of the upcoming Frost Valentines Day promotion. Mixed with strawberries and Cristal Champagne, it is sure to be "the most expensive (and most flavorful) sorbet ever offered to the public.
Proprietor Doug Woelfle, along with his wife Rowena and their daughter Kristin, are naturals for this business, as they have years of experience in the health care, restaurant and retail industries. The Woelfles are franchisees of the hugely successful original Tucson-based Frost. While the current valley Frost is located in Gilbert, there are eminent plans for expansion to other areas.
Gelato is a frozen desert treat that originated in Italy. It's origins date back to the 16th century. Gelato in Italian means, "frozen". One of the basic differences between gelato and ice cream is that gelato is mixed with very little air. This gives it a more intense texture and flavor. Gelato is considered healthier than ice cream, as it is made with all-natural flavors and contains very little butter fat, and fewer calories.
Besides gelato, the Woelfles also offer gelato cakes, specialty coffee drinks, Italian hot chocolate, and their Frostbites, which are gelato bon-bons dipped in rich Italian Chocolate.
For those wishing to try these Frost creations, they can visit the shop in the Santan Village, located in Gilbert at 2150 East Williams Field Road Ste 120. They can also be visited on the web at http://www.frostgelato.com.
# # #