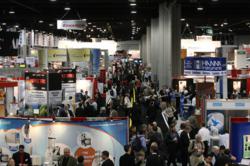 Pittsburgh, PA (PRWEB) February 16, 2012
The Pittcon 2012 Exposition, which takes place March 12-15, at the Orange County Convention Center, will include 943 exhibitors (count as of February 15) that provide products, services, and support for all facets of laboratory operations in the industrial, academic, and government sectors. The exposition will display the latest technologies and instrumentation used by scientists in areas such as analytical chemistry; pharmaceutical science and drug discovery; life sciences to include forensics, genomics, proteomics, metabolomics; food analysis and safety; environmental; and biotechnology- to name a few.
An up-to-date list of exhibitors can be found at Exhibitor List or Exhibitor Search.
The Exposition is international in scope with approximately 20% of the exhibiting companies headquartered in 29 countries outside of the United States such as the United Kingdom, Canada, Japan, China, France, Germany, and Italy. The 499,247 square foot (total footage) exposition floor will include 1852 booths and 24 seminar rooms (counts as of February 15, 2012).This year, Pittcon will be welcoming 113 new exhibitors.
There will be three specialized areas on the exposition floor, New Exhibitor, Life Science, and Laboratory Information Systems (LIMS). For the first time, there will be a Japanese pavilion consisting of seven companies starting at booth #3404. Returning for 2012 is ICP Alley comprised of four companies beginning with booth #3559. Technology Park, located in the center of the floor, will present an interactive robotics display to include a DaVinci Robot and a surgical simulator. Professional personnel will also be available during select times to answer questions. In addition, the Park will offer free wi-fi, seating, complimentary copies of leading publications, and exhibitor videos on large screen monitors that will include a twitter feed. Posters will be displayed in two spots on the floor, the Red and the Blue areas, and new for this year, 14 electronic posters will be on display. Exposition Only hours will be from 11:00 a.m. to 2:00 p.m., Monday through Thursday to allow conferees to visit the exhibits without missing any important technical sessions.
For complete information on Pittcon 2012, visit pittcon.org.
About Pittcon
Pittcon® is a registered trademark of The Pittsburgh Conference on Analytical Chemistry and Applied Spectroscopy, a Pennsylvania non-profit organization. Co-sponsored by the Spectroscopy Society of Pittsburgh and the Society for Analytical Chemists of Pittsburgh, Pittcon is the premier annual conference and exposition on laboratory science. Proceeds from Pittcon fund science education and outreach at all levels, kindergarten through adult. Pittcon donates more than a million dollars a year to provide financial and administrative support for various science outreach activities including science equipment grants, research grants, scholarships and internships for students, awards to teachers and professors, and grants to public science centers, libraries and museums. Visit Pittcon.org for more information.
###