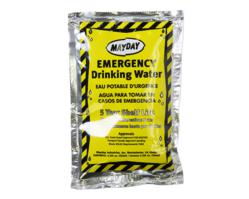 FEMA recommends that you should store at least one gallon of water per person per day in preparation for disaster.
Riverside, CA (PRWEB) February 10, 2012
In the 1940s, Mahatma Gandhi went 21 days without food, surviving only on occasional sips of water, reports Canadian news agency CBC News. Gandhi was in his mid-70s at the time and was of course very thin. Meanwhile, 56-year old Rita Chretien survived nearly 50 days in the Nevada wilderness on a small amount of left-over food and melted snow. This raises the question – How long can a person survive without water?
The Federal Emergency Management Agency (FEMA) reports that typically one can only survive about three days without drinking water (as compared with 3 weeks without food). This is why FEMA recommends storing at least one gallon of water per person per day in preparation for disaster. A normal active person needs at least one-half gallon of water daily just for drinking.
Keep in mind that the Centers for Disease Control and Prevention (CDC) even recommends drinking a half gallon every day during an emergency, no matter what. In hot weather, or for special cases like pregnancy or illness, the CDC recommends drinking closer to a gallon per day.
Home Security Store emergency kits contain a limited 3 day supply of emergency drinking water with a shelf life of 5 years. In addition, there are some water purification tablets.
Additionally, in determining adequate quantities, FEMA says to consider the following:
1. Individual needs vary, depending on age, physical condition, activity, diet, and climate.
2. Children, nursing mothers, and ill people need more water.
3. Very hot temperatures can double the amount of water needed.
4. A medical emergency might require additional water.
How should Water be Stored?
To prepare the most reliable emergency supply of water, it is recommended that individuals purchase commercially bottled water, indicates the Patrick Air Force Base Office of Emergency Management in Florida. Storing water is just as important as storing survival gear. Keep bottled water in its original container and do not open it until it need to be used, observing the expiration date. Water should be kept in a cool, dark place if possible. If not using commercially bottled water then it should be replaced every six months.
Also keep in mind one might need additional water for other uses like cleansing, sanitation, and food preparation. Foods to avoid include commercially dehydrated foods, which can require a great deal of water for preparation. Water purification tablets and emergency food bars are standard in many survival kits.
Here are some more tips from Home Security Store and FEMA– If one needs to find water outside the home then use the following sources, which will need to be treated before consumption.
1. Rainwater
2. Streams, rivers, and other moving bodies of water
3. Ponds and lakes
4. Natural springs
Avoid water with floating material, an odor, or dark color. Use salt water only if you distill it first. Do not drink flood water. In addition, safe water sources in the home include water in the hot- water tank, pipes, and ice cubes. Do not use water from toilet flush tanks or bowls, radiators, waterbeds, or swimming pools/spas.
How to Prepare Water –
The American Red Cross says boiling water is the safest method of treating water. In a large pot or kettle, bring water to a rolling boil for 1 full minute, keeping in mind that some water will evaporate. Let the water cool before drinking.
Remember, besides oxygen, water is by far the most important nutrient for the human body, reports the American Red Cross. Water lost through sweating and normal respiration must be replaced in order to stay healthy. Water is also needed to process the food one eats, especially if it is salty or made of meat. If an individual loses more water than one is taking in, dehydration will occur. By all accounts, having an ample supply of clean water is a top priority in preparing for disaster.
About Home Security Store, Inc.
Home Security Store is the premiere online ecommerce website specializing in home security, including: affordable DIY wireless and hardwired security systems, security camera systems, fire alarm systems, spy equipment, survival gear, and more. The company brings together highly-trained, professional technicians and a state-of-the-art product line to provide the most comprehensive home security source found online. The company offers FREE and FAST shipping, plus FREE tech support. For more go to http://www.homesecuritystore.com
###