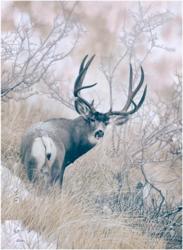 Tucson, AZ (PRWEB) February 10, 2012
Joshua Spies Fine Art recently donated a piece of his artwork to the Jim Shockey Desert Golf Shootout in Tuscon, AZ.
Spies' "Mule Deer" will be sold at auction during the event. Proceeds from the 4th annual event go towards bringing military veterans on all-expense-paid hunts. The event will be held February 11-12.
Jim is an award winning outdoor writer, wildlife photographer, wilderness guide and outfitter. Jim has published more than 1,000 adventure articles, produces videos and hosts his own adventure television show on the Outdoor Channel.
"Mule Deer" was recently featured on a Cabela's gift card.
To view or purchase this and other Joshua Spies' prints, please visit http://www.JoshuaSpies.com
###