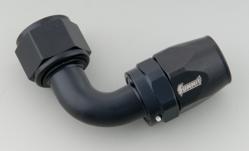 Hose ends with a black anodized finish are ideal for custom engine compartments.
Tallmadge, OH (PRWEB) February 09, 2012
Not everyone likes the traditional red and blue anodizing offered on AN hose ends and adapters. Summit Racing Equipment has introduced its own brand of AN hose ends with a black hard-anodized finish that will increase the underhood "cool" factor exponentially.
Summit Racing offers two types of AN hose ends and adapters:
Swivel-Style Hose Ends are made from aerospace-quality aluminum. The reusable hose ends have a swivel end that can be rotated to make connections easier to create, The fittings are designed for use with most fuels including alcohol and nitromethane, and are compatible with most brands of AN type braided and smooth hose.
Twist-Tite Hose Ends are lighter and easier to use than traditional AN fittings. The NHRA-approved aluminum ends have a socketless barb end—just slip Summit Racing's Twist-Tite hose over the end and the connection is complete.
Both types of AN hose ends are available in straight, 90 degree, and 45 degree configurations.
Available Sizes: -4 AN, -6 AN, -8 AN, -10 AN, -12 AN, -16 AN.
Summit Racing has its own branded Braided Nylon and Twist-Tite hose in black to complete any plumbing job, plus a large selection of black anodized AN hose ends, adapters, and hose from Russell, Fragola, Aeroquip, and Earl's.
Ordering Information: Order online at SummitRacing.com or call Summit Racing at 1-800-230-3030.
# # #