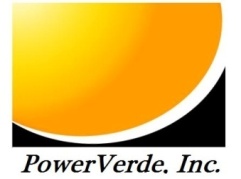 We are eagerly looking forward to the next generation Liberator design and anticipate commercial sales soon. As such we were happy to participate in the recent European stock offering by PowerVerde.
Glendale, AZ (PRWEB) February 10, 2012
PowerVerde, Inc. (OTCBB: PWVI) today announced the completion of a private offering of 500,000 restricted shares of its common stock to certain accredited European investors at $1.00 per share before placement fees and offering expenses. All shares were offered by the Company.
The Company anticipates using the net proceeds of the offering for general corporate purposes including research and development expenses, continued development of the Liberator waste heat energy system and the advancement of their business model offering electric green power systems to end users worldwide. Principals of Newton Investment BV d/b/a Newton GreenPower, participated in the offering. Newton is PowerVerde's exclusive manufacturing and distribution licensee in the European Union. Separately, Newton's principals received three-year warrants to purchase 500,000 shares of the Company's common stock at an exercise price of $1.00 per share.
Martinez-Ayme Securities acted as exclusive placement agent for the offering.
Piet Vanderhoop President of Newton GreenPower commented "We continue to support PowerVerde's Liberator waste heat recovery technology. Having purchased a Liberator 1st generation waste heat recovery system last year and demonstrated its functionality to several European end users at the Autonational engineering facility in Sneek NL, we continue to believe PowerVerde is a leader in the field of utilizing waste heat as a fuel for green electricity. We are eagerly looking forward to the next generation Liberator design and anticipate commercial sales soon. As such we were happy to participate in the recent European stock offering by PowerVerde."
The securities described above were offered by the Company and exempt from U.S. Securities and Exchange Commission registration.
This press release shall not constitute an offer to sell or the solicitation of an offer to buy these securities, nor shall there be any sale of these securities in any state or other jurisdiction in which such offer, solicitation or sale would be unlawful prior to the registration or qualification under securities laws of any state or other jurisdiction.
About Newton Investments BV
Newton, based in Leeuwarden, the Netherlands, is a green renewable energy investment company which actively pursues alternative energy opportunities and products covering a wide variety of energy sources, including, but not limited to, wind, biomass, photovoltaic, electric and thermal. Their investment objectives are to offer green renewable energy products in the EU utilizing available credits, incentives and subsidies. Their relationships with sophisticated manufacturers and knowledge of the alternative energy industry allow them advantages well beyond mere distribution. Newton forges relationships between public and private sector entities and assists in the capital formation process necessary to facilitate these objectives.
About PowerVerde
PowerVerde, Inc. (OTCBB: PWVI) manufactures advanced renewable electric power generator systems comprised of pressure expansion motors operating on any adequate heat or pressure source. These systems make electricity without fossil fuel--- from any low grade heat source or adequate pressure forum. PowerVerde is an environmentally friendly green company producing zero emissions or waste stream byproducts. For more information about PowerVerde, please visit our web-site http://www.PowerVerdeEnergy.com.
This news release contains forward-looking statements within the meaning of the Securities Litigation Reform Act. The statements reflect the Company's current views with respect to future events that involve risks and uncertainties. Among others, these risks include the failure to meet schedule or performance requirements of the Company's contracts, the Company's liquidity position, the Company's ability to obtain new contracts, the emergence of competitors with greater financial resources, and the impact of competitive pricing. In the light of these uncertainties the forward-looking events referred to in this release might not occur.
# # #