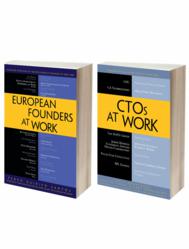 New York, NY (PRWEB) February 13, 2012
EUROPEAN FOUNDERS AT WORK By Pedro Gairifo Santos- Books and news articles are flooded with success stories of the American Entrepreneur: the leader, the inspiration, the visionary and to many a hope for a brighter future. Undoubtedly, the top name on this list of entrepreneurs is Facebook founder Mark Zuckerberg, who's grown his social media platform from a dorm room experiment to what promises to be one of Wall Street's biggest IPOs ever. Author Pedro Santos in his latest book from Apress takes an interesting spin on this topic and looks beyond the realm of North American companies. He wonders who the representatives of such success stories in the European markets are and how different, if at all, their perspectives would be compared to their American counterparts?
EUROPEAN FOUNDERS AT WORK is a series of interviews with founders of some of the most successful European companies. The interviews are a mix of unique worldwide ventures, European-only ventures, and even a few copycats of already-proven concepts. Pedro shares founders' views of starting a venture in Europe, while taking into consideration the growing national disparities between Europe and US due to significant diversity in cultures and social institutions affecting business systems.
Pedro notices certain patterns in these entrepreneurial stories. Some of these looked to capitalize on the international market because their home markets were too small; others began with an idea that morphed over time, or the idea remained the same, but the method to turn it into a reality changed. These interviews help readers understand whether the founders had a local or a global view, how they competed on the global scale, if and how they got funding and their main challenges and opportunities. Santos' book is geared towards startup enthusiasts and from potential founders to experienced entrepreneurs and investors. It will also be of interest to managers who want to expand their company in European markets.
CTOs AT WORK By Scott Donaldson, Stanley Siegel, Gary Donaldson
CTOs At Work brings you interviews from many of the world's most influential chief technology officers. The authors focus on how their interviewees tackle the day-to-day work as a CTO, while revealing much more: how they got there, how they manage and allocate projects, and how they interact with business units and ensure that their companies take advantage of technologies, teamwork, and software development practices to respond to organizational needs and improve employee productivity. The book presents interviews with the top names in the CTO world including Marty Garrison at National Public Radio, David Kuttler at Johnson & Johnson, Darko Hrelic at Gartner, Jeff Tolnar at BPL Global and many others. CTOs at Work offers insights into the present and future of CTOs in organizations around the world. This book is all that you wanted to know the day you took your job.
About Apress Media: Apress Media LLC is a technical and business publisher devoted to meeting the needs of IT professionals, software developers, programmers, and business leaders with more than 1,000 books in print and electronic formats. Apress provides high-quality, no-fluff content that helps serious technology professionals build a comprehensive pathway to career success. For more information about the innovative approach Apress takes to publishing, please visit http://www.apress.com.
###