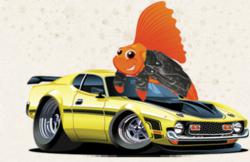 Look, apps are where it is at now. Pretty soon, many people won't even be using browsers any more, and will be viewing a lot of their content through apps.
San Francisco, CA (PRWEB) February 09, 2012
RoadFish.com men's lifestyle and finance magazine today encouraged the use of smartphone applications IRS2Go and SnapTax to aid taxpayers in the filing process during the 2012 tax season. RoadFish.com's recommendation and acclamation for the apps comes in the midst of the tax season, as taxpayers are getting their finances in order and filing their state and federal taxes to meet the extended April 18th deadline.
The http:// http://www.irs.gov/newsroom/article/0,,id=254080,00.html?portlet=108 [ Internal Revenue Service __title__ Internal Revenue Service] announced yesterday the availability of a 2.0 version of their app IRS2Go, a new smartphone application which allows users to order their tax return transcripts, check the status of a tax refund, get email tips, view IRS YouTube videos with helpful information on a multitude of tax topics, and even follow the IRS on Twitter. The first version of the free app IRS2Go was released in 2011 and had over 350,000 downloads. IRS Commissioner Doug Shulman stated yesterday, "The new smartphone app provides an easy way for people to get helpful information about their taxes. IRS2Go reflects a wider commitment at the IRS to find innovative ways to serve taxpayers in a rapidly changing world."
Intuit, the makers of TurboTax software, released a smartphone app in mid-January called SnapTax. The application, available for Androids and iPhones, takes a photograph of your W-2 through the phone, and the program's image-recognition technology reads your salary and withholding information off of the image. SnapTax's Engineering Manager, Amir Eftekhari, stated, "At TurboTax we are always looking for ways to make it easier and more convenient for taxpayers to get their maximum refund. With SnapTax, we've made it possible for taxpayers to easily do their taxes on the go in minutes." The SnapTax app is available only to California residents this year.
RoadFish.com's editor is quoted saying, "Look, apps are where it is at now. Pretty soon, many people won't even be using browsers any more, and will be viewing a lot of their content through apps. I know Bill Harris, the guy who started Turbo Tax. He and his company he created ChipSoft, which were acquired way back from Intuit, have been THE leader in this field since Day 1. I am thrilled they are ahead of the curve on this as well."
Both the SnapTax and IRS2Go apps are available in the App Store. The IRS app is free to download, while SnapTax can be purchased for $9.99 and includes federal and California state preparation as well as e-file.
RoadFish.com's editor commends the IRS for its forward-thinking with the recent update of its smartphone app, and stated, "With these helpful apps, taxpayers can now spend a ton less time and money filing their taxes and more time focusing on improving their finances, things like their monthly budget, credit score, and chipping away at debt."
The IRS opened the 2011 tax filing season on January 4th with the announcement that this year, the deadline has been extended until April 18th for tax returns to be filed. The cause for the extension is that Emancipation Day (a holiday observed in the District of Columbia) falls this year on Friday, April 15th. Therefore, taxpayers will have until Monday, April 18 to file their 2011 tax returns.
About RoadFish.com
RoadFish.com is an online men's lifestyle and finance magazine targeted toward men in their 30's and 40's that have already attained a moderate level of success in life, and are striving toward more. It goes over current events of interest to this group, such things as exciting adventures, luxury items, politics, and finances as well as ways to make more and save more money. It is a publication owned by Purpose Inc.
###