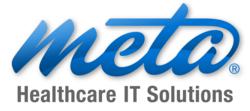 We offer a suite of high quality clinical products that leverage our 20 years of experience to help hospitals not only meet 'meaningful use' but also evolve and redefine it in their care.
Garden City, NY (PRWEB) February 09, 2012
Meta® Healthcare IT Solutions, a leading clinical software provider, will be highlighting its MetaCare Enterprise™ EHR suite of products at the 2012 Healthcare Information and Management Systems Society (HIMSS) Annual Conference & Exhibition, February 20-24 at the Venetian Sands Expo Center in Las Vegas, Nevada.
Recognized as one of the premier conferences in the healthcare industry, HIMSS12 brings together healthcare professionals across the globe for this annual gathering. Attendees who visit the conference participate in education sessions and networking events in addition to visiting the exhibits. The 2012 conference includes more than 400 education sessions plus pre-conference education sessions with symposia on ICD-10, Accountable Care Organizations (ACOs), Achieving Meaningful Use for Eligible Hospitals, Clinical Engineering and IT Leadership, Health Information Exchange (HIE), Nursing Informatics, Physicians' IT, Quality/Clinical Decision Support, Meaningful Use Success, RFID & RTLS and the Secondary Use of Data Symposium.
MetaCare Enterprise EHR is a total, enterprise-wide electronic health record (EHR) solution that enables the automation and streamlining of clinical workflow in healthcare settings while increasing patient safety. The suite of products, which includes Meta's physician order entry system, MetaCare CPOE™, the MetaCare Rx™ pharmacy system, the MetaCare eMar™ point of care medication administration system and the MetaCare IntelliDocs™ clinical documentation system, boasts Complete EHR ONC-ATCB 2011/2012 Certification as an authorized EHR vendor, enabling providers to meet the Stage 1 meaningful use requirements.
"We offer a suite of high quality clinical products that leverage our 20 years of experience to help hospitals not only meet 'meaningful use' but also evolve and redefine it in their care," stated Sal Barcia, CEO of Meta Healthcare IT Solutions. "The most difficult task for any EHR deployment is to satisfy demands of prescribers. We have designed a terrific suite of features that are powerful, easy to use and not time consuming, all requirements of demanding prescribers. Our unified, closed-loop solutions help clinicians improve patient outcomes, reduce medical risk and enhance the quality of care they deliver, all at the lowest possible cost."
At HIMSS12, Meta's marketing efforts will emphasize its fully integrated EHR while focusing on the unique features for prescribers to rapidly enter orders, process evidence based order sets, review diagnostic results and complete prescriber documentation. Visit Meta Healthcare IT Solutions at HIMSS12 at Booth #4626, or learn more about MetaCare Enterprise EHR at http://www.metacaresolutions.com.
About Meta Healthcare IT Solutions
For more than 20 years, Meta Healthcare IT Solutions has been developing software solutions that exceed the expectations of the healthcare industry by providing innovative and comprehensive clinical information solutions to hospitals and healthcare facilities. Our MetaCare Enterprise EHR™ suite provides health systems with a comprehensive and integrated solution to reduce medication errors, enhance clinical documentation and improve patient outcomes at the point of clinical care. Organizations seeking excellent products backed by highly motivated and committed support have chosen Meta for the best solutions at reasonable costs. For more information, contact Meta at (800) 768-1920 or sales(at)metacaresolutions(dot)com.
# # #