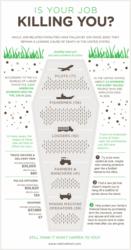 San Diego, CA (PRWEB) February 10, 2012
Matrix Direct, a nationwide leader in direct-to-consumer term life insurance products, today released a new infographic showing which jobs put American workers at the greatest risk of dying.
The informative and innovative infographic can be seen by visiting http://www.matrixdirect.com/about-us/insurance-education/is-your-job-killing-you. By sharing the infographic on Social Media or blogs, consumers can help Matrix Direct spread the word about America's most dangerous jobs.
The new infographic illustrates that work-related accidents and mishaps are a leading cause of death in the United States every year. According to the U.S. Bureau of Labor Statistics, 4,547 Americans died on the job in 2010. That's 23% less than 2000, when 5,915 people died at work, but still an alarming number of work-related deaths.
The statistics also mean that in 2010, about 3.5 workers died for every 100,000 people who are employed in the United States. While the odds of dying on the job are not as great as being killed in a car accident or in other more common causes of death, work-related deaths still claim thousands of Americans every year.
Top 10 Most Dangerous Jobs
According to the U.S. government statistics, the most dangerous jobs in 2010 were (listed in descending order, with the most dangerous on top):
● Fisherman
● Logger
● Airline Pilot
● Farmer/Rancher
● Mining Machine Operator
● Roofer
● Sanitation Worker
● Truck Driver/Deliveryman
● Industrial Machine Repairman
● Police Officer
Help Protect a Financial Future
People who work in one of the top 10 most dangerous jobs or in other professions that are equally as dangerous do have options. And it doesn't have to mean getting a new and safer job, either.
Purchasing a term life insurance policy can be a great way to help financially provide for a spouse, child, or other loved ones long after a policyholder dies in a work-related accident. For less money than most people spend on coffee or cable television each month, workers can help protect their family's financial future with affordable and reliable term life insurance.
In some cases, workers in dangerous professions may be excluded from buying term life insurance, due to the higher-than-normal risks of death associated with their work. For those workers, an Accidental Death and Dismemberment Insurance policy might provide some type of financial protection against serious injury or death in on-the-job accidents.
About Matrix Direct
Matrix Direct, Inc. is one of the country's leading life insurance agencies. Over five million Americans have contacted Matrix Direct for the best term life insurance quotes. Matrix Direct, Inc. is a subsidiary of American General Life Insurance Company, Houston, TX and an affiliate of The United States Life Insurance Company in the City of New York, NY, NY. Agency services provided by Matrix Direct Insurance Services in CA (#0B57619), ME, MA, and OK; Matrix Direct Insurance Agency, Inc. in UT; and Matrix Direct, Inc. in AR(#246412) and all other states, except SD.
Sources:
1: U.S. Bureau of Labor Statistics
###