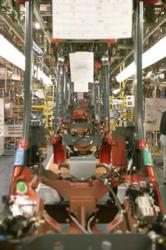 I participated in the one-day event in April 2011, and it was a fantastic workshop. Toyota is a great host and the Lean Factory Team brought a lot to the table in a short period of time. Highly recommended.
Boulder, CO (PRWEB) February 11, 2012
Professionals interested in manufacturing competitiveness and process improvement dream of being able to tour one of the world's leaders: Toyota. That time has arrived, with Toyota Material Handling opening its plant and training facilities for a 1-day workshop on March 6, 7 or 8, 2012. The event is being led by experts from the Lean Factory Group, a non-profit organization who's members include Toyota, Bosch Rexroth, Leonardo Group Americas and Orgatex.
The activity filled day includes a factory tour, a world-renowned Lean simulation game, a formal training session titled Sustaining Lean Improvements, and round-table discussions on Lean best practices with Toyota experts, Lean Factory Group leaders and participants. A Q&A session during the lunch period provides an open forum for questions to Toyota managers.
Workshop Details:
Dates: March 6, 7 or 8, 2012
Location: Toyota Material Handling, Columbus, Indiana
Time: 8:00am to 5:00pm
Lunch Included, Group Discounts Apply
Download a one page-flyer for more information and registration instructions.
###