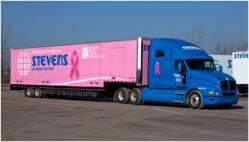 Saginaw, Michigan (PRWEB) February 10, 2012
When Stevens Worldwide Van Lines entered into a partnership with the National Breast Cancer Foundation, Inc.®, the moving company knew it needed something outstanding as the centerpiece of the relationship.
Thus, the co-branded pink truck was created.
The pink truck, which features a bright color scheme and ribbon symbols typically associated with breast cancer awareness, and specially designed tractor are part of the Stevens' fleet of interstate moving vehicles.
The truck will make its national debut at the American Moving and Storage Association Annual Education Conference and Expo on Feb. 11-14 at the Red Rock Casino, Resort & Spa in Las Vegas.
Unlike many breast cancer awareness promotions which are concentrated in October each year, the Stevens efforts with the National Breast Cancer Foundation take place year round.
With the initiative, known as "The Way to Move. The Way to Care." Stevens is donating to the National Breast Cancer Foundation for every mile that the pink moving van travels during the year. The van line also is making donations for every private state-to-state and international move that the corporate office and its agents perform.
Stevens believes in a corporate responsibility to give back and support causes and issues that are important and significant to its customers and its employees. Care and outreach are a core value of the family-owned business.
Also, when asked, cancer and cancer-awareness causes are the top concerns and personal philanthropic organizations of Stevens' employees, professional van operators and the moving company's agents. Further an overwhelming majority of staff and agent partners say they know people who are impacted by the causes they support.
Stevens selected to partner with the National Breast Cancer Foundation because of its grassroots work in offering screening and education to women and the high percentage of funds that go directly to programs and research.
Among the many initiatives of the National Breast Cancer Foundation are:

Funding of nearly 25,000 free mammograms each year
National Mammography Program, which includes 85 medical centers in 47 states to provide low-cost mammograms and treatments
Educational materials in three languages
Support of cancer research centers at M.D. Anderson Cancer Center at the University of Texas and Cleveland Clinic
Partnerships with six other leading healthcare centers nationally
At the National Breast Cancer Foundation, more than 80 percent of expenditures go to programs.
Stevens selected breast cancer as a corporate initiative because of the prevalence of breast cancer and its impact in society.
1 in 8 women will develop breast cancer
1 out of 3 Americans knows someone who has or has had breast cancer
Breast cancer is the most commonly diagnosed cancer among women
Breast cancer is the second most common cause of death from cancer in women
In addition to several other facets for employee and agent involvement with "The Way to Move. The Way to Care." Stevens has developed a special website – http://www.stevenspink.com -- and social media efforts.
To set up an interview with administrators from Stevens Worldwide Van Lines and the driver of the pink moving van during the moving association conference in Las Vegas, please contact the Stevens Marketing Department in advance.
###