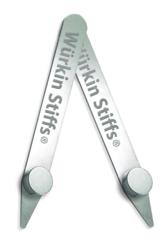 Power Stays™ are the only magnetic collar stays. They are a modern solution for unruly collars.
Sarasota, Florida (PRWEB) February 13, 2012
Jonathan Boos, owner of the Sarasota, Florida men's accessories brand, Würkin Stiffs®, Inc., announced the issuance of his second patent, US Patent No. 8,108,948 , which encompasses the function and fastening of a shirt collar utilizing a magnetic collar stay, in the broadest form. This issuance secures his principal product as being fully protected by the United States patent laws.
"Power Stays™ and Polo Stays™ are the only magnetic collar stays and this utility patent in particular, puts the stake firmly in the ground for Würkin Stiffs®", said Boos. "This is a huge accomplishment. It validates our continued success as an innovative accessories brand and my overall vision from day one - Intertwining technology along with design, to introduce products that look and work better within the menswear industry."
Würkin Stiffs® was established in 2006, shortly after Boos created the first magnetic collar stay. Humbly selling his Power Stays™ out of the trunk of his car, he managed to open his first retail account in Sarasota, FL, sending his wife into men's specialty stores to introduce the product. Since then, Würkin Stiffs® has established a retail footprint that includes such marquee stores as Nordstrom, Neiman Marcus, Saks Fifth Avenue and Bloomingdales and over 300 specialty stores in the US and Canada.
The products popularity has also led to Boos' appearance on the Big Idea with Donny Deutsch and ABC's Shark Tank, where he sparred with the a panel of multi-millionaire business tycoons—who hear investment proposals from entrepreneurs and consider whether to invest in their businesses.
"I couldn't have imagined what resulted in a wardrobe malfunction, would be the birth of an entire accessories brand", said Boos. "Power Stays™ will always be the foundation of Würkin Stiffs®. This second patent, however, allows me to focus more attention on developing additional innovative product as my magnetic collar stays are now fully protected."
For more information on Würkin Stiffs® or to see its Polo Stays™, cufflinks featuring the artwork of pop culture artists Simon Oxley, and Peter Tunney; knotz™, money clips and newly launched RFID wallets, log on to http://www.wurkinstiffs.com.
###