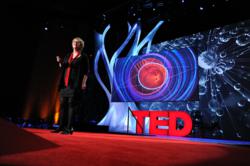 Echelman will participate in a live TED conversation today at 2pm EST for one hour.
New York, NY (PRWEB) February 13, 2012
Studio Echelman today announced that Janet Echelman's TED talk, "Taking Imagination Seriously" has received 500,000 views. Since presenting her talk on the TED2011 main stage in Long Beach, CA, Echelman's talk has been translated into 32 languages and has received of over 2,000 comments, making it one of the most commented TED talks about art. TED is known for inviting "the world's most fascinating thinkers and doers" to speak about their lives and work. To view the TED talk, visit http://www.ted.com/talks/ janet_echelman.html.
Echelman will participate in a live TED conversation today at 2pm EST for one hour. She will discuss how to develop and hold your creative vision when obstacles appear in your path. In addition, Echelman will answer questions. To participate in the conversation, visit: http://www.ted.com/conversations/9259/creative_vision_how_do_you.html
On January 30, 2012, Studio Echelman's monumental public art commission for Philadelphia's Dilworth Plaza had its groundbreaking, to inaugurate the $50 million reconstruction project that is creating 900 new jobs. The artwork, entitled Pulse, will trace the pathways of subway lines above ground using curtains of mist and colored light in real time.
Studio Echelman is currently in construction of a commission for the University of Oregon's new Matthew Knight Arena, which will premiere later this year. The sculpture will be an interactive series of lace netted forms that respond to the cheering of fans inside the arena.
Echelman is a current 2011-2012 John Simon Guggenheim Memorial Foundation fellow.
Studio Echelman recently completed Every Beating Second for SFO T2, San Francisco's International Airport new ultra-sustainable terminal which is home to Virgin America and American Airlines. In 2011, Echelman installed Tsunami 1.26, a major temporary installation for Sydney, Australia, in front of the city's historic Town Hall, suspended above one of the busiest traffic intersection in the country. The work was jointly sponsored by the City of Sydney for its Art and About public art program in conjunction with the Powerhouse Museum, which originally premiered at the Biennial of the Americas with sponsorship from the City of Denver Public Art Program.
About Studio Echelman (http://www.echelman.com) Studio Echelman explores the cutting edge of sculpture, public art, and urban transformation.
###