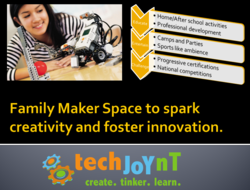 techJOYnT is designed to work with schools and augment student's learning in the areas of science, technology, engineering, art and mathematics.

Ramier (Ray) Shaik
Founder and CEO
Oklahoma City, Oklahoma (PRWEB) February 10, 2012
Students at techJOYnT learn app development for Android platforms and iPhone. Students will be introduced to and learn graphics, game design, and the current uses of smart phone apps. Student will explore the possibilities that smart phone apps have in today's society and possible future uses. The course instructors will be professionals and graduate level students in the fields of computer engineering and programming. Our instructors include Susanna Rodriguez, she is a graduate student seeking her Master's in Computer Science Engineering at the University of Oklahoma. This previous semester she was an intern developer for the EMMA iPad application project at the Center of Creation in Economic Wealth. Currently she is the Vice-President of the Society of Hispanics Professional Engineers and a coach for three BotBall teams. In both of these activities she promotes engineering, science and math to the Hispanic community. Our guest instructor is Mr. Pulkit Singhal . Mr. Singhal is a NYU-Poly alumni, who works as the Chief Technology Officer for a Silicon-Valley based startup named Fermyon. He is based out of OKC where he is responsible for putting together techJOYnT robotics academy in Oklahoma City on February 14 offering classes for a team of talented engineers.
techJOYnT is striving to raise awareness among parents and teachers of middle school and high school students that techJOYnT robotics academy is opening registration for smart phone app development class. Registration starts February 9, classes begin February 14. techJOYnT will have class Tuesday and Thursday for 4pm to 6pm and 6pm to 8pm for Android apps. The early class is for middle school students and the later class is for high school students. The iPhone app class will be on Sundays from 12pm to 4pm and is open to middle school and high school students. The classes are on programming and development of smart phone apps for the Android and iPhone markets. All classes are 4 weeks long. Raising awareness about techJOYnT and our educational goals and services among parents and teachers is an important factor in helping Oklahoma's students achive success in the fast moving world of technology.
In Metro Family magazine techJOYnT was described as the "YMCA of the tech world," techJOYnT is a hands- on after school education academy based on science, technology, engineering, arts and mathematics (STEAM). Ramier (Ray) Shaik Founder and CEO says "techJOYnT is designed to work with schools and augment student's learning in the areas of science, technology, engineering, art and mathematics. We achieve this by using robotics as a starting point to learning problem solving; from there the next step is their choice."
The 4 week courses are a continuation of techJOYnT's philosophy of encouraging students to explore their interest in technology, by allowing students access to class taught by people who are involved in their field of interest. Students can ask questions and get immediate answers that help to ignite the spark of inspiration that can lead to their next great discovery. techJOYnT believes that when you encourage a student's interest in science, technology, engineering, arts, and mathematics when they are young, you help them to become more prepared to be leaders in a technologically advanced world.
The android and iPhone app class at techJOYnT gives students the knowledge and experience to create applications to solve problems or launch their own entrepreneurial career. The hands-on experience and group interaction with classmates and instructors give students a positive reinforcement that creates a stronger self image base on accomplishments and success. techJOYnT classes also helps college bound students build and develop extracurricular activities that stand out on college applications.
What is techJOYnT?
We are a hands-on STEAM (science, technology, engineering, arts, and mathematics) after-school education academy. Adults and children co-learn in our programs to make learning fun and engaging. As a result we hope to get kids creating, tinkering, and learning and to create tomorrow's entrepreneur, innovator, and maker.
How Does It Work?
We create a strong relationship with corporations, community, and educational institutions that are passionate about retaining the innovative culture of our nation. Our goal is to reach out to youth ages 4-18 by offering a supplement to their schooling and provide hands-on-learning to the areas of science and technology. techJOYnT provides a place with gadgets to work with and mentorship from the professional community. Our mentors have experience with coaching competitive robotics leagues and are familiar with the core values of the internationally recognized Lego Education and F.I.R.S.T robotics initiatives.
###