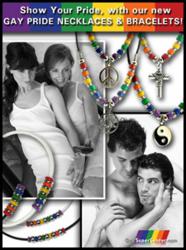 Hampton, Florida (PRWEB) February 11, 2012
Online shopping business G.S.C. Solutions Inc. launches gay and lesbian website and online shopping store http://www.GaySuperCenter.com. Gay Super Center supports the gay and lesbian community and offers a variety of gay pride products and merchandise. Gay Super Center provides a trustworthy, convenient and confidential shopping experience.
The website offers a wide range of exclusive merchandise for any type of gay pride shopping. The online store sells a variety of gay pride products and merchandise including bath and body care, Herbal candles, December Diamonds Christmas ornaments, refrigerator magnets, jewelry, accessories, outdoor décor and more. Gay Super Center is now featuring Poo-Pourri natural air freshener scents, sprays and gift sets. The diverse product line includes items that support the gay community and gifts for friends and partners.
G.S.C. Solutions Inc. is committed to providing positive gay pride shopping experiences. Gay Super Center ensures secure purchasing and reliable shipping for all rainbow products.
"We're obsessed with providing the absolute best customer service that you've ever experienced. Here at Gay Super Center, we not only want our customers to be taken care of, we also want to pamper to their every need and request, from December Diamonds to Rainbow Flags and Gaysentials," says G.S.C. Solutions Inc. President and C.E.O. Wayne Morse.
"Our friendly, knowledgeable staff is ready to help you in any way we can. We want our customers to be able to say, 'I've just had the best customer service experience in my life, and it was at GaySuperCenter.com.'"
Shop Gay Super Center's products, jewelry and gifts by visiting http://www.gaysupercenter.com/.
About Gay Super Center:
Gay Super Center is a G.S.C. Solutions Inc. website that offers a wide selection of gay pride and rainbow products. Gay Super Center carries all types of merchandise and gifts such as rainbow necklaces, bracelets, flags, magnets and key chains. Products include body soaps, bubble bath, lotion, natural air fresheners, candles, postcards, stickers and static clings. Gay Super Center is dedicated to supporting the gay and lesbian communities with unique products and online shopping experiences that are enjoyable and comfortable for customers. Gay Super Center strives to bring out individuals' beauty, individuality and true colors through its gay pride merchandise.
About G.S.C. Solutions Inc.:
G.S.C. Solutions Inc. owns various online-shopping websites that offer diverse products and positive online shopping experiences. As a member of the Better Business Bureau of North Florida, G.S.C. Solutions Inc. websites are safe and secure. The G.S.C. Solutions Inc. ensures affordable products, online shopping protection and live customer support. The company's mission is to deliver products for unique needs and service excellence.
###