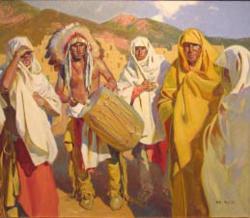 Santa Fe, New Mexico (PRWEB) February 21, 2012
Nedra Matteucci Galleries in Santa Fe, New Mexico, announces its 2012 exhibition schedule, which includes an exhibition of outdoor sculpture in the gallery's one-acre garden; the annual sale exhibition of distinctive jewelry and silver objets d'art from the House of Buccellati, Italy; well-known plein-air painters John and Terri Moyers; and a retrospective of renowned Native American sculptor, Michael Naranjo.
Matteucci Galleries will exhibit leading contemporary sculptors who represent the depth and diversity of modern, western and representational art throughout the year. The exhibition Monumental and Garden Sculpture: A Lifestyle in Art, will highlight noteworthy monumental and garden sculpture in the gallery's garden space, one of the largest outdoor sculpture gardens open to the public in Santa Fe, and include work by Dan Ostermiller, Glenna Goodacre, Doug Hyde and others.
Buccellati – Timeless Elegance, will be on exhibit from June 25 – June 30, 2012, the opening of which will be included in the festivities for the opening weekend of the Santa Fe Opera. The annual sale exhibition features jewelry and objets d'art from Buccellati, the Italian design house of world-renown. The exhibition includes a notable selection of new audachron jewel watches for women, each created using Swiss precision mechanisms, and uniquely handcrafted, traditional Buccellati metalwork.
The shared dedication and passion for creating traditional Southwest and landscape paintings while developing new perspectives abroad continues to inspire husband and wife artists, John and Terri Kelly Moyers. Their show of work, John and Terri Moyers – All Over the Map, from August 11–September 1, 2012, features their French and Spanish plein-air paintings recently shown in New York. In addition, the couple will show European, Canadian, and Mexican compositions, as well as their newest oil paintings of cornerstone Southwestern images of culture and landscapes.
Michael Naranjo-Inner Vision, from September 15 – October 13, 2012, will feature a collection of limited edition bronzes produced from 1970 through 2010 by Native American artist, Michael Naranjo. Created without the use of his sight (lost while serving in Vietnam), Naranjo's work presents a stylized narrative of his heritage and life experience in deeply-hued and tactile bronze work. His decades-long career offers a repertoire of sculpture that is a display of his extraordinary artistic abilities, uniquely created with an inner vision and remarkably skilled touch.
ABOUT NEDRA MATTEUCCI GALLERIES
Unique among art galleries, Nedra Matteucci Galleries in Santa Fe, New Mexico is recognized around the world for its diverse selection of contemporary and historic art. Since its founding in 1972, the gallery has sought to expand and refine its diverse collection of important paintings and sculpture. Today the gallery specializes in 19th and 20th century American art, including the work of the Taos Society of Artists, artists of the American West, and masters of American Impressionism and Modernism. The gallery also shows an extensive selection of paintings by Russian painters Nicolai Fechin and Leon Gaspard. Leading contemporary painters and sculptors who represent the depth and diversity of modern western art play a major part of the comprehensive collection of artists the gallery exhibits as well.
Nedra Matteucci Galleries also owns Morning Star Gallery in its historic location at 513 Canyon Road, Santa Fe. Morning Star Gallery displays an outstanding collection of Native American antiquities and a selection of Native American contemporary masters such as Nathan Youngblood and Dwayne Wilcox. For more information visit http://www.morningstargallery.com or email indian@morningstargallery.com. Nedra Matteucci Galleries is located at 1075 Paseo de Peralta in Santa Fe. For more information please visit http://www.matteucci.com or call 505-982-4631
FOR MEDIA INQUIRIES/photos and interviews with the artists:
Please contact Jennifer Hobson, JLH Media
Jennifer(at)jlhmedia(dot)com
505-603-8643
Or Dustin Belyeu, Nedra Mateucci Galleries
pr(at)matteucci(dot)com
505 982 4631
###