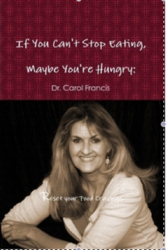 Help food fuel and entertain you but not harm your body or self-esteem.
Los Angeles, CA (PRWEB) February 13, 2012
Helpful interview for those with eating concerns now available.
Heather Loeb, MFC Therapist, specializes in different counseling techniques which help children, teens and young adults free themselves from the life-threatening conditions of bulimia, anorexia and over-eating. Which therapies will best help a child who is withdrawn and depressed will be different from the therapies that might help an angry, rebellious teenager.
This interview with Psychotherapist Heather Loeb on the Dr. Carol Francis Show is viewable at this link. It can be used as part of school or medical programs that address eating concerns of all sorts. Cognitive Behavioral Therapy, Family Therapy, Deep Psychodynamic Therapy and Group Therapy are discussed clearly. Viewers will be encouraged to recognize that help is available in a format that matches their personality.
Dr. Carol Francis, Psychologist for 32 years, hosts this interview with Heather Loeb to help parents, teens, children, teachers and school counselor be able to understand what interventions are available.
"Some individuals truly prefer family work, where issues of control or perfectionism can be resolved," explains Heather Loeb, MFCT. "Some teenagers feel so judged and inadequate that they think being overly skinny will buy them love and admiration; and sometimes it does."
"According to Center for Disease Control and Prevention (2010), obesity affects now more than 30% of the US population of adults and children. Diabetes Type II is on the epidemic rise in the same groups of people. So, First Lady Michelle Obama has initiated new campaigns every year in hopes of stimulating schools, parents and grant programs to intervene. She wishes to return the US population back to being healthy and fit," Dr. Carol Francis explains. (See more details at cdc.gov/datastatistics.)
Michelle Obama's work recently with WalMart as reported on CBS News and ABC News, Jan 20, 2012 and during her Feb 1, 2012 guest appearance on Jay Leno on NBC clearly address the masses of parents and adults dealing with overeating (http://www.cbsnews.com: Why-the-walmart-michelle-obama-plan-for-healthy-eating-is-doomed.) However, sedentary lifestyles for adults and children and the access to easy, high calorie fatty foods work against the body's natural wish to metabolize food for real energy expenditure. So obesity is a natural consequence of this new US lifestyle." (Some pessimistic perspectives are voiced about Michelle Obama's recent outreach delineated at cbsnews.com "Why the Walmart Michelle Obama Plan for Healthy Eating Is Doomed.")
Dr. Carol Francis hosts radio and video shows aimed to promote health, happiness and hardiness. Her show will be aired on PunchTV next season and meanwhile excerpts are viewable on Dr. Carol Francis Show. Radio shows are archived for download concerning eating disorders, weight management, depression, stress relief, and many other topics. Listeners can download free copies of these helpful discussions at http://www.blogtalkradio.com/dr-carol-francis. Interested individuals can also listen to programs at drcarolfrancis.com.
###