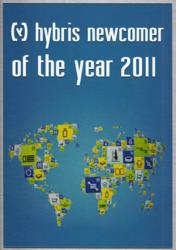 ECA has become a highly valued hybris partner and 2011 was a remarkable year for ECA and hybris", says Carsten Thoma, COO of hybris.
New York, New York (PRWEB) February 10, 2012
Ecommerce Accelerator (ECA) has been recognized as a hybris Gold Partner and earned the global "Newcomer of the Year" award at the hybris Global Partner Summit, acknowledging their deep expertise in developing multi-channel solutions using the hybris platform.
"With over 160 hybris partners worldwide and 50 newcomers last year, winning the Newcomer of the Year award is a recognition of both our expertise in multi-channel commerce solutions and our strong partnership with hybris.," said Arthur Lawida, CEO of ECA. "Over the last year, we have established ourselves as a strong partner for hybris in North America. We have delivered several successful hybris-based solutions and are rapidly expanding our capabilities to support this key multi-channel platform," he said. "hybris tapped our development teams to assist them in the development and performance testing of the hybris Accelerators. This aspect of our partnership has been key to giving our client facing teams the deep hybris knowledge they need to deliver world-class multi-channel solutions on the hybris platform. Multi-channel commerce solutions are complex and the hybris framework gives us the power and capability to deliver a truly advanced and comprehensive, enterprise class solution."
"ECA has become a highly valued hybris partner and 2011 was a remarkable year for ECA and hybris", says Carsten Thoma, COO of hybris. "ECA's focus on technology, integration and multi-channel commerce expertise coupled with their focus on lowering the TCO and time to market for hybris based multi-channel commerce solutions will help us expand the market of clients who can realize their multi-channel commerce initiatives by leveraging our combined expertise."
ECA is continuing to expand this partnership through hybris developer certifications, training and building extensions and integrations to the hybris platform that help ECA deliver more cost effective solutions to our customers.
About hybris:
hybris is a leading vendor of next generation end-to-end multichannel commerce software based on a single platform including managed and hosting services. Its clear vision about the need for consistency, coordination and personalization of information across all channels and throughout all phases of the customer lifecycle has resulted in the development of an integrated, agile solution enabling businesses to communicate and sell across all channels – online and offline - in a consistent and effective way. hybris has 14 offices around the world located in the economic capitals of North/South America, Europe and Asia and supports over 380 global customers. Customers are brands from retail and manufacturing industries, including: Bobcat, Clarks, Coca Cola Beverages, Conrad, Grundfos, Hornbach, Iomega, Kaiser+Kraft, Levi´s, Lufthansa, Migros, Nespresso, Nikon, P&G, Rexel, Timberland and Toys´R´Us.
About Ecommerce Accelerator
ECA (http://www.eaccel.com) delivers leading-edge consulting services focused on the strategic selection, implementation and operation of multi-channel commerce solutions. ECA's deep technical experience coupled with their full-service end-to-end services ensures that your ecommerce businesses will grow. As a hybris Gold Partner, ECA has solid experience with complex commerce solutions. For more information, visit http://www.eaccel.com.
###