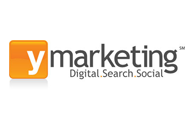 With this final report, we want to help advertisers better connect with and understand their consumers.
Costa Mesa, CA (PRWEB) February 10, 2012
The Giants were crowned the official champions of Super Bowl XLVI, but off the field, there was an unofficial champion being crowned. Chevrolet was determined the Social Media Brand Champion of the 2012 Super Bowl XLVI by digital marketing agency ymarketing. Chevrolet had the greatest digital impact of all the Super Bowl commercials this year, based on social media, search and sentiment before and after the game.
To come up with this overall winner, ymarketing assigned football related points to each of the different categories, which were based on key performance indicators (KPIs) including Facebook fans/ likes, Twitter followers, Twitter mentions, social mention reach, and YouTube views and likes. Chevrolet beat the competition with a final score of 27. In second place was ymarketing's odd-on favorite Coca-Cola, with a score of 25. Just like the Giants pulled through in the second half for their final win, Chevrolet came up from behind in the second half and surged into victory in the final quarter.
ymarketing was also interested to find out which companies would come out on top in the various categories. Among these winners were PepsiCo's Doritos for Top Food Brand, Coca-Cola for Top Beverage Brand, and The History Channel (for the show Swamp People) for Top Entertainment Brand. These victories were in large part due to the companies involving and engaging consumers on social media, both before or after the show. Having a solid social network was a bonus no matter which way you looked at it.
Last year was the first year that ymarketing introduced their Super Bowl Social Brand Scoreboard Report, based on the belief that to truly determine the ROI of the Super Bowl commercials, it was essential to look to the social media interaction going on before, during, and immediately after the game. Although traditional ad critic panels are helpful, ymarketing wanted to bring more objective results to the subjective process of ranking Super Bowl ads.
"We wanted a quantifiable way to measure true influence of these Super Bowl ads, which are more expensive than ever before," said Donald Nosek, VP of Strategy for ymarketing. "With this social media scoreboard report, we want to help advertisers better connect with and understand their consumers. We'll have another search and ad spend follow-up next week, so stay tuned."
The full 2012 Super Bowl Social Brand Scoreboard Report can be requested at http://bit.ly/znwqeq.
About ymarketing:
ymarketing is a data-driven, digital marketing agency specializing in Search Engine Optimization (SEO), Pay Per Click / Search Engine Marketing (SEM), Social Media Marketing (SMM) and other Digital Go-to-Market-Strategies. For more than a decade ymarketing has partnered with agencies and assisted companies by increasing revenue through generating qualified leads and profitable eCommerce checkouts directly online.. ymarketing strictly focuses on strategies and techniques that grow revenue without increasing marketing expenses to drive positive ROI.
Recent awards and recognition include: #1 Fastest Growing Private Company - Orange County Business Journal, #12 Fastest Growing Private Company in LA/OC - Inc Magazine, and HubSpot Partner of the Year - HubSpot User Group Summit 2010.
For more information, please visit http://www.ymarketing.com/
###