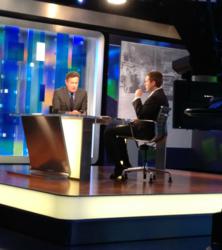 Since releasing the tapes, The Raab Collection has been featured on virtually every major media outlet
Philadelphia, PA (PRWEB) February 10, 2012
Historical documents dealer, The Raab Collection, has made international headlines following its discovery of previously unheard tape of radio traffic from Air Force One as it flew from Dallas to Washington following President John F Kennedy's assassination in 1963.
The reel-to-reel tape was discovered by the Raab Collection when it acquired material from the estate of General Ted Clifton, a top military aide to Presidents Kennedy and Johnson. The new material is approximately 45 minutes in duration.
Previously, only edited snippets of the tape had been heard. This tape fills in important gaps following this formative historical event. The Raab Collection has donated a copy of the tape to the US National Archives.
Since releasing the tapes, The Raab Collection has been featured on virtually every major media outlet, including CNN's "Piers Morgan Tonight," "Brian Williams and NBC Nightly News," and Wolf Blitzer's "The Situation Room."
About the Raab Collection
The Raab Collection is an internationally renowned historical autograph dealer. Located in Philadelphia, it has brought many important historical documents, letters and historical autographs to the market. Raab has worked with many famous American families, including those of Thomas Jefferson, Dwight Eisenhower, and Gerald Ford. The recent discovery of an Abraham Lincoln letter discussing his religious beliefs written by his good friend, William Herndon, generated national and international interest.
###