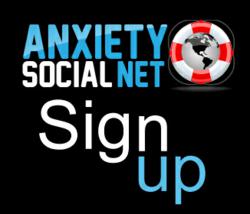 Anxiety suffers often feel alone and isolated, the whole idea behind ASN is to allow people to share their emotions in a 'safe place' and learn from each other's experiences
(PRWEB) February 09, 2012
National Institute of Mental Health estimates that anxiety disorders affect now over 40 million Americans age 18 or older. For those who struggle with anxiety, it can feel difficult and overwhelming to openly discuss their anxiety with other people in their lives. This can often lead to isolation and increased suffering.
AnxietySocialNet was founded by Salomon Ptasevich, a former anxiety sufferer. The site was developed to provide anxiety sufferers with a safe and unique online environment where they can gain support for dealing with and overcoming their anxiety. On ASN, users can join anxiety support groups, learn about anxiety through a user powered anxiety Q&A system, and keep an online diary allowing them to share their personal experiences within the online community.
ASN is very much a site built for and by anxiety sufferers. One prime example is the "Emotional Chart," which asks users to evaluate their mood based upon 3 questions that are scaled between 1 and 10. The results from this short questionnaire are published to the site wall. Members can easily identify when another member is feeling down and can promptly respond to them in an encouraging and supportive way via personal message or live chat.
There has been some debate over whether social networks, in nature, heighten anxiety and stress levels. However, ASN has proven that a under certain conditions, social networks can actually provide needed advice, comfort, and peer to peer help. ASN members show us, everyday, that given a supportive, private, and serious online community of other anxiety sufferers, it is possible to achieve significant improvement in one's anxiety and stress levels.
As Salomon Ptasevich stated in ASN, "The whole idea behind ASN is to allow people to share their emotions in a 'safe place' and learn from each other's experiences. We try to encourage users to get themselves out there and conquer their anxiety." ASN looks to be a promising place for promoting community, support, understanding, and a way for anxiety sufferers to seek effective help.
###