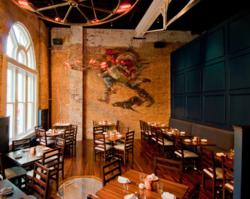 From the moment you approach, you are reminded of the building's historic past...the exterior retains many of the firehouse's original elements
Washington, DC (PRWEB) February 09, 2012
The long-anticipated Sixth Engine restaurant, now open at 438 Massachusetts Ave., N.W. in the Mount Vernon Triangle neighborhood of Washington, D.C., features a unique design by Streetsense of Bethesda, MD.
A new American bistro operated by veterans of popular D.C. restaurants The Dubliner and Town Hall, Sixth Engine is located in the city's oldest firehouse. Built in 1855 for the Metropolitan Hook and Ladder Company and still displaying the original "MHL" insignia, this two-story brick structure was acquired by Douglas Development in 2005. It was preserved as a historic element within a block of newly developed upscale residential buildings.
About a year ago, Douglas turned the space over to a partnership of Gavin Coleman, Jeremy Carman, Paul Holder, Paul Madrid, and Tim Walsh. Coleman runs the Dubliner, the Irish pub opened by his father in 1974; the others have operated Town Hall in Glover Park since 2005. BuilderGuru Contracting, Inc., the general contractor for the redevelopment, hired Streetsense to design a 3,900 square foot restaurant space that showcases and preserves the building's history. Streetsense designed the base building renovation and collaborated with Jenkins Baer Associates of Baltimore, MD on the interior design.
"This building presented us with a wonderful opportunity to create a one-of-a-kind restaurant environment, though not without its share of challenges, as the property inherently contained obstacles relating to code compliance and operational efficiency," said Kathryn Bram, Director of Projects, Streetsense. "The firehouse is surrounded by the new 400 Mass condo development, but has its own walls and structure. We had to solve numerous issues in regard to egress, deliveries, life safety, structural integrity, venting, and more."
The historic building's structure had to be strengthened to accommodate new loads on the second floor and roof, Bram explained, thus delaying its opening – but diners are sure to think the results worth the wait. "From the moment you approach, you are reminded of the building's historic past," she said. "The exterior retains many of the firehouse's original elements."
The restaurant's entry floor features a front bar and rear dining; the second floor houses the kitchen and a private dining room, with exposed roof trusses evoking the original structure and views through the historic front windows. A patio for outdoor dining is scheduled to be developed later in the year.
About Streetsense
Streetsense is an integrated brokerage, design, branding, and development company specializing in retail and real estate. Established in 2001, Streetsense is the premiere and only truly full-service, retail-centric company in the real estate market today. Its powerful platform provides clients with an extremely wide range of services, including master planning, architecture, retail design, retail brokerage, development, and a full-service marketing studio that includes branding, graphic design, publicity, social media outreach, and more. Clients include well-known brands such as Chipotle, Starbucks, Maggiano's Little Italy, Plow & Hearth, and Limited Brands, as well as real estate developers that include The JBG Companies, Vornado/Charles E. Smith, and Akridge. Recent projects include interiors for Matchbox in Rockville, MD (plus a ground-up building pad site), Pi Pizzeria in Washington, D.C., Chipotle's new concept Shophouse in Washington, D.C., and Café Caturra in Arlington, VA; office space design for Living Social in Washington, D.C.; and development of The Shoppes at Arts District, a 36,000 square foot specialty center will be the focal point of Arts District Hyattsville MD). For more information, see http://www.streetsense.com.
###