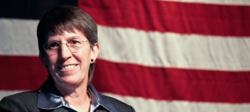 The Summit, Discover Your Grace: The Power of Women Veterans, is an opportunity for women Veterans from all over the state to come together and receive valuable support.
(PRWEB) February 10, 2012
Kimberly Olson, Colonel, USAF (ret) and President/CEO of Grace After Fire, has announced that the Texas-based non-profit organization is hosting its first ever Women Veterans' Summit on Saturday, March 3, 2012, in Dallas to kick off Women Veterans Month, so designated by the 82nd Texas Legislature to name each March from 2011 to 2020 in honor of women Veterans from all service branches.
"The Summit, Discover Your Grace: The Power of Women Veterans, is an opportunity for women Veterans from all over the state to come together and receive valuable support," said Col. Olson. "We invite them to register now as space is limited. The Summit is also a stellar launch for both Table Talk®, our new peer-to-peer program, and Texas Women Veterans Month."
Grace After Fire developed the full-day Summit to be a dynamic, energetic conference for 150 Texas women Veterans from all branches of the United States military. Discover Your Grace: The Power of Women Veterans will feature experts leading focused sessions on issues of importance to Texas women Veterans. Grace After Fire designed all aspects to help women Veterans help themselves and to facilitate successful transition from deployment to individual self-empowerment and self-renewal and as a part of their families, the workforce, and their communities.
The conference is free, including all meals and tickets to a Texas Legends basketball game Saturday evening after the Summit. Though at no charge to women Veterans who want to attend, Summit space is limited, so early registration is encouraged.
The State of Texas resolved during the 2011 Texas Legislative session to name March as Women Veterans Month; Governor Rick Perry signed the resolution last June. Author was Texas State Senator Jane Nelson; co-authors include Texas State Senators Wendy Davis, Joan Huffman, Florence Shapiro, Leticia Van de Putte and Judith Zaffirini.
Senator Nelson will lead the opening ceremonies for the Summit on the morning of Saturday, March 3, at 8:30 a.m. Senator Davis will also be on hand to welcome attendees before the sessions begin. Among other the highlights of the day are a yoga session, conversations about peer-to-peer counseling and resources, discussions about family resiliency and nutrition, and a "minute at the mic" opportunity for participants to share experiences. In the afternoon, Rebecca Halstead, Brigadier General, USA (ret), will offer the keynote address entitled "The First Person You Must Lead is YOU." On Saturday evening, Summit attendees will have opportunity to attend a Texas Legends basketball game, during which women Veterans will be recognized. The game will be at the Dr. Pepper Arena in Frisco, Texas.
The Summit will be held at Parker University Wellness Center, 2540 Walnut Hill Lane in Dallas. Guests may arrive Friday evening, March 2, to meet with fellow Veterans and honored guests before the Summit officially begins. Information about special group rate accommodations for Friday night is available on the registration form online.
As of early February, sponsors include The Home Depot Foundation, Standard Process Inc., Arlington Woman's Club, and Texas Business Women. Additional sponsorships are available. Please visit http://www.graceafterfire.org/sponsor/donate.html.
Home to the second greatest number of active duty military families in the nation, Texas has the third largest population of Veterans in the United States. According to statistics from the Texas Veterans Commission, about 10 percent of U.S. Forces currently serving in Afghanistan and Iraq are women, and the population of female Veterans in Texas is expected to reach 163,249 by the end of 2013.
A 501(c)(3) non-profit organization, Grace After Fire is dedicated to helping women Veterans help themselves by providing the means for women Veterans to gain knowledge, insight and self-renewal. Grace guides women Veterans as they re-enter their communities and the workforce and refines their roles for a successful future. Founded in 2008, the organization is led by President/CEO Kimberly Olson, Colonel, USAF (ret); headquarters are in Fort Worth, Texas. Grace After Fire is on the web at http://www.GraceAfterFire.org. Their phone is 800-362-6477. Become a women Veteran fan at http://www.facebook.com/graceafterfire.
###