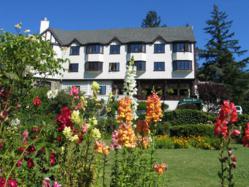 L.A.Times rated #2 Grand Hotel in the United States
Redwoods, CA (PRWEB) February 10, 2012
The Garberville Benbow Inn today announced that L.A. Times ranked it as the #2 Grand Hotel in the United States. In a study supported by the California Tourism and Travel Commission, over 70% of California's domestic leisure visitors were residents of California. The Garberville Benbow Inn is the perfect romantic back yard getaway. The Hotel celebrates this recognition by honoring all Hotel Guests with an afternoon tea and scone service and "bed-time" Crème Sherry. The Redwood California Hotel achieves its 200 TripAdvisor review and enjoys the recognition as the best accommodations and restaurant in its market.
"We are very excited to earn this recognition: it speaks volumes to our service, accommodations and location," states John Porter, Managing Partner. The historic hotel is set to undergo an array of property improvements focused on the guest rooms, hallways, exterior painting and other areas with refinancing just completed by Redwood Capital Bank, a local community bank. A second plan of financing with Redwood Capital is currently being discussed for a new wing of the Inn to include an elevator, new public restrooms, enhanced meeting rooms and other improvements. This work is slated to begin in January 2013 and will round out several years of environmental planning and hotel design/development. The Redwoods, CA hotel will continue the afternoon tea and freshly baked scone service and in room Sherry night cap. "We have a tremendous amount of pride in our historic Inn; the remodel is just polishing the apple. We want to ensure we continue to exceed the expectations of our Guest not only in service but in product," says Porter.
A historic and romantic full-service California hotel, the Benbow Inn offers a luxurious and charming environment. Located near the Avenue of the Giants, 70 miles south of Eureka, CA and only 6 miles north of Mendocino County, the Benbow Inn is a convenient backyard getaway in Northern California. With continuing improvements being made to the Redwood Highway (US Highway 101) guests can drive from Sonoma County in approximately 2 hours. "We offer complimentary bicycles for hotel guests and guests can enjoy the Lobby Great Room offering puzzles, great place to read, relax with our Fireplace as the center piece. Guests can enjoy free Wi-Fi, an award winning wine list, and wonderful cocktails," boasts Porter.
From romantic lodging and exquisite fine dining at the world-class Tudor-style hotel, to family lodging and pool-side fun at the RV resort, to scenic golf in the 9-hole course, they have it all. Easy driving distance from Eureka and the San Francisco Bay Area, the Benbow Inn offers something for everyone seeking a romantic, beautiful and relaxing California Redwoods vacation. Amongst the abundance of services offered, the Benbow Inn is very proud of its North Coast Dining Zagat rated Restaurant. The famous Tudor- style dining room is an elegantly casual environment to savor your morning breakfast or exquisite dinner.
Celebrating the Benbow way, the Garberville hotel puts on an afternoon complimentary freshly baked scone and tea service. "We are excited for 2012, we have an array of events we are planning for the upcoming year and look forward to serving and exceeding the expectations of our guest." states Porter.
To learn more about the Redwood, CA Benbow Inn, please call toll free 800-355-3301 or visit the hotel online at http://www.benbowinn.com. To join our monthly newsletter text BENBOW to 22828.
Marketing Support and Press Release by OptiRev, LLC, http://www.optirev.net Holly R. Michalek.
###