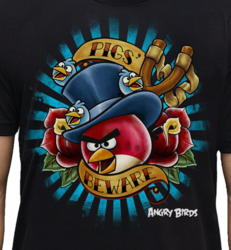 New Angry Bird Tees with Style and Shading,
Game On!
Chico, Ca (PRWEB) February 14, 2012
The Angry Birds took a trip to the head artists at Fifth Sun and came back with an edge. These guys are tough and accented with style. The cookie cutter style just got some new icing.
Angry Birds Game On is premiering on AngryBridsTees.com. The new tattoo inspired design is fun, festive and full of artistic detail. These shirts represent the true family crest of angry birds. The flock joins together with shirts like Pigs Beware, Bomb's Away, and Love Birds. The enhanced shading, attitude looks, angelic wings, and catchy tag lines put these shirts on the edge. The designs represent a favorite online game with a new tattoo style. Check out the design, and let the world know what you think.
The inspiration for the design is an out reach to establish Angry Birds to a broader market. While the story is still the same the new look gives fans a new opportunity to represent the Angry Birds family. The artist shed some light on the Angry Birds giving them volume and expression while the story and the characters are the same; the new look gives them a whole new attitude.
This is the first series of licensed approved Angry Birds designs to feature a trendier look. AngryBirdsTees.com is the first to feature the Angry Birds Game On shirts. This will be the main online store for all new official licensed designs for Angry Birds. These shirts will only be available for a limited time. Give them a review; let the world know about the new Angry Birds designs.
Watch the Angry Birds Game On Premiere
# # #