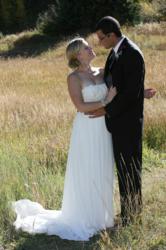 Vail, CO (PRWEB) February 10, 2012
The Alpine Tavern Restaurant and Vail Racquet Club Mountain Resort have teamed up to offer the most comfortable and complete wedding venue in Vail on 20 scenic acres bordering the White River National Forest. Together they boast over 9,000 square feet of indoor and outdoor wedding, reception and banquet space with expansive views of the surrounding mountains, as well as affordable on-site lodging to accommodate celebrations of all sizes.
The Alpine Tavern has full service, on-site catering by Vail's most experienced and creative chefs including Paolo Busi, executive Chef at the Alpine Tavern. Paolo's unique cuisine draws on his training and experiences around the world. Alpine Tavern's dishes are created from a symphony of ingredients and spices from Europe, Latin America, Asia and Scandinavia. Busi is a pro at customizing menus for receptions, rehearsal dinner, bridal luncheons, and wedding brunches.
Scott Kneeland, restaurant manager and sommelier, recommends pairing guest's meal choices with Alpine Taverns fabulous wines. Alpine's wine cellar presents wonderful choices including reasonably priced Napa, Sonoma, Italian, and other international wines perfect for your special celebrations. For the connoisseur, Alpine Tavern has an excellent selection of fine French and American wines.
Alpine Tavern's international staff delivers, in the words of their customers "awesome service". Dining is a unique experience not just a meal. Guests are recognized at their entrance as a valued individual.
The Alpine Tavern's soaring ceilings, roaring fire, dramatic lighting and alpine views result in Vail's premier mountain setting for a beautiful wedding. White linen tablecloths, fine silver, crystal and crockery frame every meal. The dining room, also called the Edelweiss, presents a casual, but elegant ambiance.
It's the perfect match for a wedding in the Vail.
Check out the Alpine Tavern's new selections and weekly music lineup in SneakPEAK Vail's event calendar.
The Alpine Tavern and Vail Racquet Club Mountain Resort are not just Vail…..they are the best of Vail…. the Vail you fell in love with…in East Vail 4695 Racquet Club Drive. Alpine Tavern is open every day, including Tuesday. To make a reservations at the Alpine Tavern call 970-476-7888. To reach the Vail Racquet Club Mountain Resort call 970-476-4840.
###