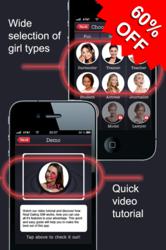 sometimes the best Valentine's gift is the one we give ourselves
Las Vegas, NV (PRWEB) February 10, 2012
Being good at dating is a skills that does not come natural to some people. While women are likely to openly share their dating problems, many men do not feel comfortable doing it. This was the main reason why real-life Dating Simulator was recently launched on Apple's app store.
Officially named Dating SIM, the application is a simple game for male iPhone users. It contains ten basic levels that correspond with common dating situations: from meeting someone new all the way to going on a date with that person. The interesting fact about this dating simulator is that even when user selects an incorrect option and the game is over for him, he can still find out why it was incorrect. That way, the more he plays, the more he learns. This s one of the reasons, why it took this dating simulation app only a few weeks to get featured by Apple in the Lifestyle's 'What's hot' list.
The producers or Dating SIM are passionate about helping men improve their dating skills. To celebrate Valentine's Day, the team has prepared a special offer that some might find hard to refuse. It consists of three parts. First of all, followers and fans will get an exclusive 'Valentine's Day Survival Guide' totally free. Secondly, apart from Valentine's SALE, one of the most popular paid features will be available free of charge to new as well as existing users.
Finally, as a special treat, Dating SIM has teamed up with one of the most innovative new online dating services: WotWentWrong.com. This unique free dating service is designed to get honest, but respectful feedback about it's users from their ex-partners. This way they can learn from their past dating mistakes before they start a new relationship. Because those who are serious about improving quality of their dating life, will be able to improve faster.
According to it's marketing director Michael Gee, other popular features of the dating simulator are "Detailed Profiles" for all girl types and access to additional "Seduction Levels". He further stated that the app contains key selection of the most profound findings from the world's best dating experts put into a simple, fun game.
About Tiger Club, LLC
Tiger Club LLC is a dating technology company based in Las Vegas, NV. The global, yet young and dynamic team combines passion for teaching men dating skills on one hand and iOS technology expertise on the other hand. This results in several top-of-the-class dating applications for iPhone and iPad. The company strives to bring the best dating tips from the world's top dating experts and to deliver a real-life experience directly to iPhone users.
###