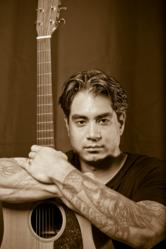 I can take you to where you want to go on your instrument.
Fort Lauderdale, FL (PRWEB) February 13, 2012
Dyce's Parkland guitar lessons are crystal-clear, and easy to follow. Instead of focusing on endless theory and scales; Dyce gives beginning guitarists real music to play—from their very first lesson. He begins with just one or two simple-to-play chords that sound great. He then shows students how to put these chords together. In no time, students find that they are playing hip, interesting, foot-tapping grooves. In fact, within just a few lessons, most students are playing real songs; classics that everyone knows and loves.
Many students don't realize that their first guitar teacher can have an incredible impact on their future musical experience. Dyce Kimura's Weston guitar lessons are way ahead of most teachers' lessons: he makes the guitar fun, and his students get results.
Dyce's guitar lessons for the absolute beginner are crafted with the "big picture" in mind. Each lesson plan flows logically to the next. Students learn the guitar the right way: building on concepts, reinforcing knowledge, and building confidence.
The response to Dyce's Parkland and Skype guitar lessons is amazing: students love the fact that—within almost no time at all—they are playing songs that friends instantly recognize, and sing along with.
Dyce Kimura is a full-time guitar instructor, and one of Miami's most in-demand guitar rock and blues player. When Dyce is not teaching others, he can be found playing Christian contemporary, praise and worship music, and serving as both ministry and worship leader.
Besides being Ft. Lauderdale's most in-demand guitar teacher, he is now providing webcam guitar lessons to students throughout Parkland and Weston via Skype. Dyce's 1-on-1 Skype guitar lessons are popular for a reason: they make learning just so easy. All that is required is a high-speed internet connection, a webcam and mic—standard on any newer computer, a Skype account (easy to create), and headphones (optional).
For more information on Dyce's guitar lessons, call 786 457 3687 today.
###